Archive for the 'Sacramento Real Estate' Category
December 11th, 2009 Categories: Default News, Mortgage and Loans, Sacramento Economy, Sacramento Foreclosures, Sacramento Real Estate
The Foreclosure market here in Sacramento is currently drying up… very few homes coming on the market as REO or bank-owned, fewer foreclosure filings, Multiple offers for the homes that are priced right, and an overall sense of "wait and see" seems to be on most potential buyers' minds right now.
The banks have been rescheduling foreclosure sales or Trustee Sales at the county courthouse for so long, that now the foreclosure departments just haven't been scheduling them in the first place– kinda makes sense, if all your going to do is reschedule it and put it off anyway; why spend the time and money on scheduling it in the first place?
If the number of buyers at the foreclosure sale (trustee sale) is any indication– there must be many investors who believe the prices are not going much lower, or who think there may be some up-tick in the market sometime soon: the number of buyers has tripled or quadrupled in the last several months and continues to grow, according to friends who attend the sales down at 720 9th St. downtown Sacramento (address for the Sacramento County Municipal and Superior Courts). they say tat over 90% of foreclosure sales are postponed still, or re-scheduled, usually for only 30 days at a time…
In other Sacramento area real estate news: According to OBSNews
An amendment co-authored by Sacramento Congresswoman Doris Matsui (D–California) has been based by the House of Representatives and was added to the Wall Street Reform and Consumer Protection Act (H.R. 4173) yesterday. The act requires mortgage servicers or lenders who are participating in the Making Home Affordable Program (HAMP) to publicly report their progress in helping responsible homeowners stay in their homes. The amendment was introduced by Congresswoman Matsui with Rep. Betty Sutton (D–Ohio) and Rep. Kathy Castor (D–Florida), and debated on the House floor. Passage of H.R. 4173 is expected today.
"Too many families in my district of Sacramento have faced foreclosure on their homes as a direct result of the economic meltdown," stated Matsui. "There is another uptick in foreclosures expected that could affect as many as 4.5 million homeowners over the next two years. The Making Home Affordable Program holds the potential to greatly reduce these figures, and my amendment will ensure accountability on the mortgage industry. Transparency will incentivize the mortgage industry to help responsible homeowners stay in their homes."
Some information courtesy (OBSNews.com)
Authored by | Discussion: 1 Comment »
November 16th, 2009 Categories: Mortgage and Loans, Pre Foreclosures, Real Estate News, Sacramento Real Estate
SACRAMENTO, Calif. – (Business Wire) The California State Department of Real Estate (DRE), the state department that issues licenses to real estate professionals and protects consumers in real estate transactions, has intensified its efforts to ensure all consumers receive the protection they deserve.
See the Earth Times Article here
Real Estate Commissioner Jeff Davi said recently "The economic downturn coupled with the unprecedented number of foreclosures has created a rich environment for scammers who have come up with a variety of schemes to take advantage of desperate and financially stressed homeowners, not only must we take aggressive regulatory action against these con artists but we must educate and provide homeowners with the necessary tools to protect themselves against scammers who have charged thousands of dollars in upfront fees and deliver nothing in return."
Loan modification scams in particular are plaguing of course, California, Nevada and Florida, but also other states as well…
One of the biggest steps that the DRE here in Sacramento has done recently to combat these scams is to re-write the most recent Public Service Announcement in Spanish, the PSA is a comprehensive document warning consumers of loan fraud. Now the DRE has also expanded its Spanish language Website to educate consumers on how to avoid falling victim to a loan scam.
Authored by | Discussion: No Comments »
November 13th, 2009 Categories: First Time Buyers, Sacramento Real Estate, Sacramento Real Estate Trends
Cold Sacramento Real Estate Market
If Sacramento area real estate buyer trends have any resemblance to the national trends, things may be heading into a long, slow spell…
Even with mortgage interest rates are at their lowest levels in five weeks, a seasonally adjusted index of home purchase applications was at its lowest level since 2000, the Mortgage Bankers Assn. said in a report yesterday.
The closely watched Freddie Mac report on rates also came out Thursday, showing 30-year fixed home loans at an average of 4.91% this week for borrowers paying 0.7% in up-front points and fees to lenders.
So even though mortgage rates are so low, home sale mortgage applications are declining —
So even with the government's $8,000 tax credit for first-time home buyers has been extended, and a $6,500 credit for many move up buyers, the numbers are way down…
Authored by | Discussion: No Comments »
November 13th, 2009 Categories: First Time Buyers, Sacramento Real Estate, Sacramento Real Estate Trends
A consensus poll of real estate agents with Keller williams realty in the Sacramento area revealed today that the tax credit pulled forward demand, got people to buy earlier, and that there will likely be a lull in buyer traffic at the end of 2009 into 2010.
The tax credit for first time buyers remains the same, $8,000, but now current homeowners who buy a new residence can qualify for a tax credit of $6,500 under the program. First time homebuyers are defined as not owning a home in the past three years. Current homeowners are those buyers who have used the home sold or being sold as a principal residence consecutively for 5 of the previous 8 years. This means someone who sold their home 2-years ago but lived in it for 5-years before they sold are eligible for the tax credit if they buy a new home.
Add the fact that we are going into the slow time of the year, It seems that buyer activity here in the Sacramento valley for first time and move up buyers alike may definitely be going into a bit of a dormant stage.
Authored by | Discussion: No Comments »
November 13th, 2009 Categories: Real Estate News, Real Estate Trends, Sacramento Foreclosures, Sacramento Real Estate, Sacramento Real Estate Trends
Sacramento real estate market called Less Favorable in think tank report…
Urban Land Institute, a Washington D.C. think tank reported yesterday in its "Emerging Trends in Real Estate 2010" report that there may be problems ahead for Sacramento real estate market.
Jonathan Miller, a consultant for PricewaterhouseCoopers who wrote the report,said "On balance here, I guess it's a sober year for 2010 and maybe not much better in 2011," in a telephone news conference from the convention. "It all depends on how the economy behaves and if the consumer comes back. We don't expect much of a resurgence."
In the report, Sacramento was described as less favorable because of "concerns about government gridlock, rising taxes and an inhospitable business climate".
Authored by | Discussion: No Comments »
November 4th, 2009 Categories: National Real Estate Trends, Sacramento Foreclosures, Sacramento Real Estate
Sacramento Valley and San Juaquin Valley small towns that have been hit hard by unemployment are seeing a dramatic increase lately in foreclosure filings.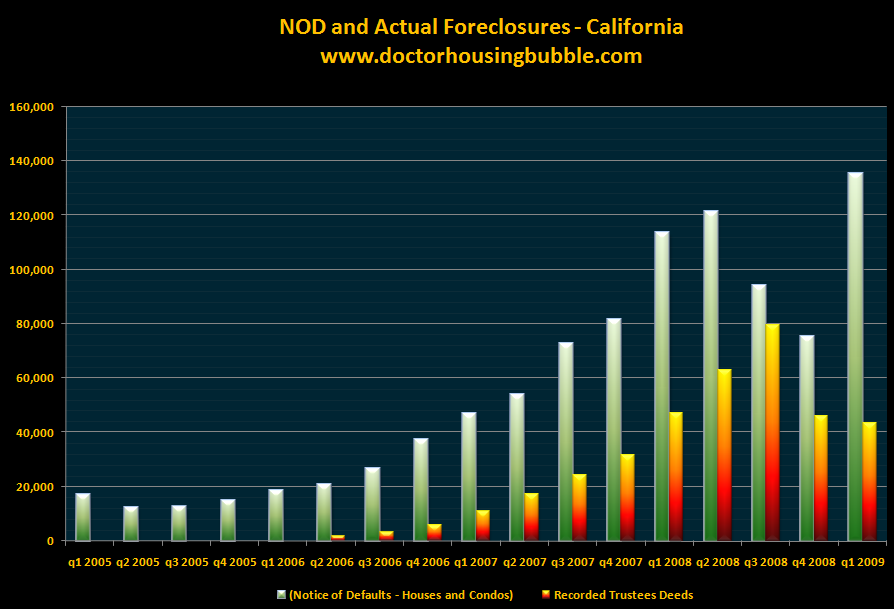 I came across this article today and though I'd pass it along…
The foreclosure crisis in the US is moving into small towns and suburbs which have previously been untouched by the economic downturn, according to new research.
A new report from RealtyTrac show a dramatic increase in foreclosures from a year ago in suburban areas previously believed to be more stable, such as Boise, Idaho, up nearly 22% from the second quarter of the year and Provo, Utah, which saw foreclosures up almost 11% in the same period.
In several states foreclosure activities have reached smaller towns with previously self-sustaining industries such as Chico in the Sacramento Valley, California, which has seen a staggering 98% increase in foreclosures from the third quarter of 2008.
The Las Vegas metro area had the highest percentage of foreclosures among its housing units in the third quarter, up 5.13% followed by Merced, California, up 3.72% and Cape Coral in Florida up 3.67%.
'We are seeing migration into secondary markets and a migration into formerly stable areas and areas that have been wracked by unemployment,' explained Rick Sharga, the vice president of marketing at RealtyTrac.
Sharga said that he expects a peak in foreclosures in 2010, only a marginal improvement in 2011 and a return to normal monthly foreclosure activity sometime in 2012.
'Rising unemployment and a new variety of mortgage resets continued to gradually shift the nation's foreclosure epicenters in the third quarter away from the hot spots of the last two years and toward some metro areas that had avoided the brunt of the first foreclosure wave,' added chief executive James Saccacio.
'While toxic subprime mortgages drove much of that first wave of foreclosures, high unemployment and exotic Alt-A Option ARMs are spreading the foreclosure flood to more metro areas in 2009,' he said.
Meanwhile, a rush of property buyers is pushing up real estate transactions as they try to beat the government's deadline at the end of November for the $8,000 tax credit for first time buyers.
The latest figures from the National Association of Realtors (NAR) show that its Pending Home Sales Index rose to 110.1 in September, its eight consecutive monthly rise.
The index now stands at the highest level since December 2006 when it was 112.8 and is 21.2% higher than September last year, marking the largest annual gain on record.
It could be a short lived blip though, as many analysts believe that the recovery in the US housing market is being propped up by the first-time buyer tax credit that was introduced by the Government to boost demand for houses.
'What we're witnessing is a rush of first-time buyers trying to beat the expiration of the tax credit at the end of this month,' said Lawrence Yun, NAR chief economist.
Wednesday, 04 November 2009 courtesy10:03 Ray Clancy USA – US Property News
Authored by | Discussion: No Comments »
October 28th, 2009 Categories: Loan Modification, Mortgage and Loans, Sacramento Real Estate
Effective immediately, SB 94, which became effective Oct. 11, will ensure anyone selling loan modification services will take money only after they do what they have promised. Also they must advise potential customers that they can actually negotiate a modification with their lender on their own or obtain help free of charge from nonprofit counseling agencies that are pre-approved by the Department of Housing and Urban Development.
The law includes penalties up to $10,000 and up to a year in jail for violation of the law for an individual and a fine of up to $50,000 for a corporation.
Consumer advocates called the law "a step in the right direction," but say more needs to be done to make loan modifications easier to accomplish in order to reduce the frustration that leads homeowners to hire the unscrupulous.
No Telling exactly how Sacramento areaq Modification shops are dealing with the law… It's too early to tell.
Authored by | Discussion: No Comments »
October 19th, 2009 Categories: Loan Modification, Mortgage and Loans, Real Estate Trends, Sacramento Real Estate, Sacramento Real Estate Trends
Bank of America (BOA) announced today that it suffered a $2.2 billion loss in the third-quarter quarter.  Contributing to that was a $1.2 billion dividend payment to its preferred shareholders, including the U.S. government, credit losses within some of its consumer-related businesses, and $402 million after it agreed to eliminate a loss-sharing agreement it had struck with the government earlier this year.  "Obviously, credit costs remain high, and that is our major financial challenge going forward."  Most of this quarter's losses were in Bank of America's mortgage and credit card businesses, which together lost more than $1 billion during the July-September period. 
BOA funded $95.7 billion in first mortgages, selling purchase or refinance loans to nearly 450,000 borrowers, including $23.3bn in mortgages to 154,000 low- and moderate-income borrowers during the quarter.  About 39% of all the first mortgages were for purchases. Year-to-date at the end of Q309, BOA modified the mortgages of approximately 215,000 customers, and an additional 98,000 BOA mortgage customers are in the trial stage of a Making Home Affordable Modification Program (HAMP) workout. The overall results were slightly worse than Wall Street was expecting.  Analysts had anticipated that the company would suffer a loss of 21 cents a share, according to Thomson Reuters, but in fact lost 26 cents a share.
Foreclosures up
Since government intervention began in September 2008, foreclosure sales remain stunted, dropping 8.6% from the previous month and 40.6% from a year ago. But the percentage of foreclosures sold to third parties, who are usually investors, grew by 215% from last year and 3.27% from August, according to ForeclosureRadar's monthly foreclosure report.  Arizona leads all states with an increase of filings by 36.1% in September, followed by Florida (29.6%), Texas (24.3%), and Michigan (18.22%).  Filings in California increased only 1.08% in September, but the volume has grown by 123% from last year. 
Urban areas were hit hardest and spurred the increases.  In Arizona, the statewide increase was fueled by a massive 81.3% increase in Phoenix foreclosures.  Foreclosures in Las Vegas jumped 47.4%; Atlanta had a 39.9% increase; Chicago's rates climbed 36.2%; and Houston had a 33.2% spike in foreclosures, according to ForeclosureListings.com.  RealtyTrac says foreclosure filings in Q309 increased to a level unseen since it began reporting the figures in January of 2005.
Authored by | Discussion: No Comments »
September 29th, 2009 Categories: Pre Foreclosures, Real Estate Trends, Sacramento Real Estate
Sacramento city officials gathered Monday around an abandoned, shopworn home in Oak Park to describe how they plan to use millions of dollars in federal stimulus money to transform foreclosed eyesores into gems.
The property on 34th Street is the first single-family home purchased by the Sacramento Housing and Redevelopment Agency on behalf of the city under the Sacramento Property Recycling Program.
The effort is funded by part of the $13.2 million the city of Sacramento received from federal legislation aimed at shoring up foreclosure-battered neighborhoods.
"If we can rehabilitate these homes and get buyers into them, it helps the whole neighborhood," said Chris Pahule, assistant director of SHRA.
He noted that the 34th Street house had been broken into previously, and that vacant houses "are a magnet for vandalism and crime."
The 34th Street property was once appraised for $60,000, but it was foreclosed upon by Wells Fargo Bank. SHRA subsequently purchased it for $38,000.
Renovation on the house will begin later this year. SHRA plans to put it on the market in early 2010.
SHRA has allocated $3 million of the city's $13.2 million in federal funding to the Property Recycling Program, which will be run in partnership with nonprofit and for-profit partners that will actually make the needed repairs.
The rest of the money is going to programs that make loans to developers who rehabilitate distressed single-family homes for sale and multi-family properties for rent to low-income tenants.
SHRA officials hope to rehabilitate 50 to 60 homes with the $3 million allocation. Proceeds from the sales will be plowed back into the program to buy additional houses.
Sacramento County received $18.6 million from the federal housing bailout bill, and through SHRA also will spend part of that money to buy and fix up foreclosed homes.
In addition to Oak Park, SHRA plans to target portions of Meadowview, North Highlands, Del Paso Heights, North Sacramento, south Sacramento and Galt.
SHRA is seeking an additional $20 million under the second version of the federal Neighborhood Stabilization Act. If it gets that money, the agency envisions rehabilitating more than 300 foreclosed properties throughout Sacramento County.
City Councilwoman Lauren Hammond, in attendance Monday, said she wants to see the bleeding stop in the Oak Park neighborhood, her entire district and countywide, and hopes the federal money will help.
She said there were 252 notices of default and 134 foreclosures in her district in the first quarter of this year alone. Last year, the county recorded 17,221 foreclosures, more than 7 percent of California's total.
"Just before the recession, we had gone from 85 percent rentals to 60 percent, with 40 percent homeowners (in Oak Park)," she said. "I was really hoping to reach a goal of 50-50, because homeowners tend to be more dedicated to taking care of their homes and property. …
"And then (the recession) hit. Now, I'm hoping that this program will get us heading in the right direction again."
Right now, the house on 34th Street doesn't look like much. It needs painting, and the lawn is dead with bare patches. Inside, the floors and walls need work.
To illustrate its potential, SHRA officials on Monday showed off a nearby home renovated by a developer using a loan from the agency. That 950-square-foot home, with new carpet, gleaming features, a separate garage and a basement, is on the market for $86,000 and has a pending sale offer.
While one spruced-up home may not seem like much amid a sea of foreclosures, Sergio Barajas, West Coast community development manager with the National Community Stabilization Trust, a new national nonprofit working to fight foreclosure blight, said surgical rehabilitation of a relatively small number of houses can make a difference.
"When you look at a home like this, we look at the potential to stabilize the neighborhood as a whole, not just one home," he said.
Authored by | Discussion: No Comments »
September 11th, 2009 Categories: Real Estate News, Sacramento RE Stats, Sacramento Real Estate
SACRAMENTO, Calif. – James Seeley, a machine shop supervisor at the University of California, Davis, just wants a modified mortgage that he and his wife, Sandi, can better afford.
It's a common quest in this economy. Seeley's wages are being cut. His house in Natomas, Calif., has lost almost half its value. And he owes more than it's worth, even with a $125,000 down payment in 2006.
"We want to get payments down to 31 percent of our income," Seeley said.
In Curtis Park, Calif., Hilary Egan is trying to do the same. Her contractor husband has seen a considerable drop in business. She wants a modification before their interest-only loan resets next year to higher payments.
The Seeleys and Egans, both current with their mortgages, have something else in common: Both their modification requests were denied.
Their rejections have aligned them with a broad and growing swath of public opinion: sore that a U.S. banking industry that has received billions of dollars in taxpayer support in the past year hasn't reciprocated on their behalf.
"I don't know a single person who has benefited from the money that was given to lenders," Egan said.
Added Seeley, "The taxpayers are the largest investor in these companies, so I would think they would be taking care of us first."
Banks and financial institutions aren't usually adored even in best of times. But after absorbing much blame for exuberant lending that created the housing bubble, they are increasingly absorbing a backlash for their response to the subsequent foreclosure crisis.
It's not hard to see why. While banks and loan servicers have promised for almost three years to better address rising stresses on their home loan borrowers, foreclosures and defaults still haven't seriously slowed.
The eight-county Sacramento region has counted more than 42,000 foreclosures since the start of 2007. Many area neighborhoods are scarred by vacant repos and dead lawns that pull down property values of other homeowners. Statewide, the foreclosure tally has passed 410,000, and it's believed thousands more are inevitable.
As a result, it's not just borrowers griping about the inability of banks to contain the crisis. Elected officials, besieged by complaints from constituents, are increasingly applying pressure as well.
This month, the League of California Cities, convening in San Jose, will consider a resolution urging 480 cities to yank deposits from banks that "fail to cooperate with foreclosure prevention efforts."
"If you count up the money cities have in banks, that's an amazing amount of power," said Los Angeles City Council member Richard Alarcon, a former state lawmaker. "We have never tried to seize it. I'm trying to seize it. If you're not a good player on the foreclosure front, we're not going to put our money in your bank."
Last week, the Elk Grove City Council voted 4-0 to back the notion and lobby for it at this month's convention. The city of 141,000, one of the fastest growing in California during the housing boom, in the bust became an epicenter of defaults and foreclosures.
"It's time. It's past due. We should have done this some time ago," said Vice Mayor Sophia Scherman, who lives next to a foreclosed home. "It's going to send a very strong message to these institutions."
Others aren't so sure. Tony Cherin, professor of finance at San Diego State University, said, "I can understand the frustration."
But he said cities would have fewer choices for investing because of bank failures and mergers during the meltdown. He said cities' options "may be limited even though they would like to divest themselves."
Two weeks ago, U.S. Rep. Doris Matsui and more than a dozen other California House members applied their own pressure. They wrote Shaun Donovan, secretary of the U.S. Housing and Urban Development Department, urging him to turn up the heat on mortgage lenders to modify more loans. Matsui and others wrote that homeowners who use HUD-approved counselors to contact loan servicers are often "rebuffed or told they couldn't be helped until they were behind on their payments."
Said Matsui, "The economy will not come back the way it can until we take care of these foreclosures, and this is the way to do it. There are no excuses at this time, and that's why the letter went out."
Last month, the U.S. Treasury Department likewise issued a so-called "name and shame" list of lender performances. The report revealed that banking giants like Bank of America had modified only 4 percent of its loans that qualified for President Barack Obama's Making Home Affordable Program. (That program provides financial incentives to lenders to lower interest rates or stretch out loan payment times to make payments more affordable to borrowers.) The government said Wells Fargo had modified just 6 percent of its eligible loans.
Banking officials are quick to acknowledge they can do better. But they also contend that they are dealing with a crisis that keeps growing beyond efforts to staff for it.
"Unfortunately, our member banks, as committed as they are to working with their customers, still haven't found a big enough magic wand to wave over this thing," said Rod Brown, president and chief executive officer of the California Bankers Association. Brown noted that Wells Fargo hired 4,000 staffers in the first half of 2009 to deal with mortgages. He also cited U.S. Senate testimony by Bank of America that it handles 1.8 million calls a month about residential foreclosure issues.
In a statement last month, Wells Fargo Home Mortgage Co-President Mike Heid acknowledged frustration. He said, "While the majority of our customers who request help are getting through to us and receiving the help they need, we know we've fallen short of our customer service goals in some cases."
Banks, meanwhile, are also dogged by a widespread and often-mistaken perception that the purpose of so-called bailout funds – hundreds of billions of dollars in the past year – was specifically to help banks modify mortgages.
While the Obama administration budgeted $75 billion this year to help prod loan modifications, the much larger sums were designed to "better equip banks to make loans to help them get this economy out of the downturn," said Brown. "It was also to help banks, strong banks, to give them more capital, and to work with the regulatory entities to acquire weaker or failing banks." In other words, to prop up a banking sector reeling from losses as more Americans defaulted on residential mortgages, credit cards and commercial real estate.
"Those dollars had nothing to do with residential mortgages. They weren't directed to banks for that purpose," Brown said. He and others note that banks are paying back billions of dollars, with interest, to the government.
In the short run, that doesn't spell relief for James and Sandi Seeley. Their Aug. 19 letter from Wells Fargo said the investor who owns their loan balked at modifying it. The big bank suggested the Seeleys consider a short sale – in which the bank would accept less than it's owed to avoid foreclosing. The Egans received the same option from a Wells Fargo subsidiary.
Neither couple wants to leave their houses. Both said they're reapplying for modifications. Said Egan, in a plea to banks, "I don't want you to bail me out. I don't want you to make my payment for me. Can you just play ball?"
(c) 2009, Sacramento Bee
Distributed by McClatchy-Tribune Information Services.
Authored by | Discussion: No Comments »