Archive for the 'National Real Estate Trends' Category
March 1st, 2011 Categories: Default News, Foreclosure News, National Real Estate Trends, Short Sales
Sacramento real estate investor Finds Sacramento Area Short Sale Specialist And Certified Short Sale Negotiator to help her participate in the new Chase Short Sale Outreach Program.
Got a call off my Sacramento Short Sale Center Website from a Sacramento investor yesterday about eleven o'clock.  She was frantic, as she had talked with another Sacramento Short Sale Agent who had promised to meet with her on Sunday and preview her triplex and take her listing. She needed it done quickly because she had been  communication with Chase and they had offered her their new CHASE SHORT SALE OUTREACH PROGRAM.  The other agent had flaked and was not answering his phone, (I hope nothing bad happened) so she had asked the short sale negotiator at the outreach program what to do- the negotiator said to Google  Sacramento certified short sale agent and my sites came up several times on the first page.  The investor explained that the Trustee Sale (or Foreclosure Sale) was in almost exactly twenty four hours and she needed to list the property so she could get the listing paperwork turned in to the Chase outreach department and they could extend the sale-
Well, long story short; my sign went up today, the foreclosure sale was postponed and I preview the property and meet the tenants tomorrow.  Another listing and another upcoming Sacramento short sale closing!
Authored by Forth Hoyt | Discussion: 1 Comment »
January 27th, 2011 Categories: Foreclosure News, National Real Estate Trends
Who are these real estate agents and why are they bothering me?
Got this great article from Tenants Together

The owner after foreclosure, usually a bank, will often hire a real estate agent to market the property.
These agents generally try to get all tenants out of the property as quickly is possible. Remember, their goal is to get you out.
I don't get it. Why do they want this property vacant?
Banks and agents claim that it is easier for them to sell the property if it is vacant. It doesn't make much sense. Vacant properties attract vandals, contribute to neighborhood blight, and bring down property values. Plus the owner is giving up rental income by throwing out tenants.
The California Association of Realtors has opposed recent legislative efforts to protect tenants after foreclosure. It may not make sense, but unfortunately, that's their position.
A real estate agent is pressuring me to move. What should I do?
If someone is telling you to move out but doesn't serve a written notice, you don't have to do anything.
Tell the real estate agent (or other bank representative) to put any communications about your tenancy in writing.
To be safe, inform the bank and its representatives in writing that you are a tenant, so they don't move forward with an eviction claiming they didn't know a tenant lived at the property.
The real estate agent is lying to me about my rights. What are my options?
Stop talking to the agent. Demand all communication in writing.
Contact a tenant organization or legal aid to learn about your rights from a reliable source.
File a complaint with the Department of Real Estate against any real estate agent that lies to you about your rights. The agent could lose his or her license for this.
The agent keeps talking about "cash for keys". What does this mean?
These are agreements that banks/agents want you to sign in which you give up your rights as a tenant in exchange for money. In the typical agreement, the tenant is paid money to agree to move out sooner than required by law.
You are under no obligation to accept these "cash for keys" offers.
If you want to work out a deal in which you move, negotiate the terms of the agreement to your satisfaction.
Get help before signing any agreement. There may be legal consequence and you need to know what you are getting into.
Are there any special things to keep in mind when negotiating cash for keys agreements?
Carefully balance whether you are better off accepting a deal or staying in your home as long as possible.
Do everything in writing and keep copies.
Make sure that the person signing any agreement for the owner is an authorized representative for the owner.
Get as much of the money up front as you can, and the rest when you turn over the keys.
Consider adding a provision requiring the bank to return your deposit on the same day you turn over the keys.
I had an agreement, but now the agent won't honor it.
Unfortunately, many tenants report that agents and banks do not comply with their end of the deal. Some tenants move out in reliance on a deal, but then are left with nothing. Tenants who are stiffed can sue, but it may take months to get the money.
Always insist on getting some of the money up front, and the rest at the time you turn over your keys, to avoid problems.
Call Tenants Together for more information. Our Tenant Foreclosure Hotline is 415.495.8012. If you need legal assistance, please contact your local legal aid office.
Authored by Forth Hoyt | Discussion: 1 Comment »
April 15th, 2010 Categories: Foreclosure News, National Real Estate Trends, Sacramento Foreclosure News
NATIONAL FORECLOSURES SURGE
Well, I wonder what this will mean to our home prices that seem to have stabilized?  Now, these are national statistics on foreclosures, but foreclosureradar.com has expressed exactly the same trends here in California and the Sacramento area too…
LOS ANGELES – A record number of U.S. homes were lost to foreclosure in the first three months of this year, a sign banks are starting to wade through the backlog of troubled home loans at a faster pace, according to a new report.
RealtyTrac Inc. said Thursday that the number of U.S. homes taken over by banks jumped 35 percent in the first quarter from a year ago. In addition, households facing foreclosure grew 16 percent in the same period and 7 percent from the last three months of 2009.
More homes were taken over by banks and scheduled for a foreclosure sale than in any quarter going back to at least January 2005, when RealtyTrac began reporting the data, the firm said.
"We're right now on pace to see more than 1 million bank repossessions this year," said Rick Sharga, a RealtyTrac senior vice president.
Foreclosures began to ease last year as banks came under pressure from the Obama administration to modify home loans for troubled borrowers. In addition, some states enacted foreclosure moratoriums in hopes of giving homeowners behind in payments time to catch up. And in many cases, banks have had trouble coping with how to handle the glut of problem loans.
These factors have helped slow the pace of foreclosures, but now that trend appears to be reversing.
"We're finally seeing the banks start to process the inventory that has been in foreclosure, but delayed in processing," Sharga said. "We expect the pace to accelerate as the year goes on."
In all, more than 900,000 households, or one in every 138 homes, received a foreclosure-related notice, RealtyTrac said. The firm based in Irvine, Calif., tracks notices for defaults, scheduled home auctions and home repossessions.
Homeowners continue to fall behind on payments because they've lost their job or seen their mortgage payment rise due to an interest-rate reset. Many are unable to refinance because they now owe more on their loan than their home is worth.
The Obama administration's $75 billion foreclosure prevention program has only been able to help a small fraction of troubled homeowners.
About 231,000 homeowners have completed loan modifications as part of the Obama administration's flagship foreclosure prevention program through March. That's about 21 percent of the 1.2 million borrowers who began the program over the past year.
But another 158,000 homeowners who signed up have dropped out — either because they didn't make payments or failed to return the necessary documents. That's up from about 90,000 just a month earlier.
Last month, the administration expanded the program, launching a plan to reduce the amount some troubled borrowers owe on their home loans and give jobless homeowners a temporary break. But the details of those programs are expected to take months to work out.
The states with the highest foreclosure rates in the first quarter were Nevada, Arizona, Florida and California, with Nevada leading the pack, RealtyTrac said.
Rising home prices and speculation fueled a wave of home construction there during the housing boom. But now the state, particularly around the Las Vegas metropolitan area, is saddled with a glut of unsold homes.
Still, the number of homes in Nevada that received a foreclosure filing dropped 16 percent from the first quarter last year.
All told, one in every 33 homes in Nevada was facing foreclosure, more than four times the national average, RealtyTrac said.
Foreclosure filings rose on an annual and quarterly basis in Arizona, however.
One in every 49 homes there received a foreclosure-related notice during the quarter.
Florida, meanwhile, posted the third-highest foreclosure rate with one out of every 57 properties receiving a foreclosure filing.
California accounted for the biggest slice overall of homes facing foreclosure — roughly 23 percent of the nation's total. One in every 62 properties received a foreclosure filing in the first quarter.
Authored by Forth Hoyt | Discussion: No Comments »
April 11th, 2010 Categories: Graphs and Charts, National Real Estate Trends, Sacramento Real Estate Trends
Sacramento housing market outlook; The double dip?

A lot of people have been saying lately that there may be another crash coming nationally. More Foreclosures than last year, more short sales, higher interest rates and worse economic times coming… What will the effects be on the Sacramento Real Estate Market?  What more will the Sacramento housing market need to endure still?

Many sources say that the housing recovery in hard hit states like California, Nevada, Florida and Arizona are ten years off, here's why:
The New York Times:  Don't Bet the Farm on the Housing Recovery
MUCH hope has been pinned on the recovery in home prices that began about a year ago. A long-lasting housing recovery might provide a balm to households, mortgage lenders and the entire United States economy. But will the recovery be sustained?
Alas, the evidence is equivocal at best.
The most obvious reason for hope is that, unlike stock prices, home prices tend to show a great deal of momentum. Correcting for seasonal effects, home prices as measured by the S.&P./Case-Shiller 10-City Home Price Index increased each month from June 1995 to April 2006, then decreased almost every month to May 2009. Since then, they have risen through January, the latest month for which data is available.
So, because home prices have been climbing of late, isn't it plausible that they'll keep doing so?
If only it were that simple.
Home price booms and busts do end, sometimes quite suddenly, as was the case for the boom of 1995 to 2006 and the bust of 2006 to 2009. Today, we need to worry about strong headwinds, as the government begins to withdraw its support of a still-troubled lending industry and as foreclosures are dumping millions of homes onto the market.
Consider some leading indicators. The National Association of Home Builders index of traffic of prospective home buyers measures the number of people who are just starting to think about buying. In the past, it has predicted market turning points: the index peaked in June 2005, 10 months before the 2006 peak in home prices, and bottomed in November 2008, six months before the 2009 bottom in prices.
The index's current signals are negative. After peaking again in September 2009, it has been falling steadily, suggesting that home prices may have reached another downward turning point.
But why? Unfortunately, it is hard to pinpoint causes for a change in demand for housing. The factors clearly include government economic policy, like interest-rate changes and tax credits. But these moves don't line up neatly with major turning points in the market.
Sociological processes may be driving these changes. Trends in news media coverage, for example, generate conversations in barbershops and hotel lobbies, which in turn alter the conventional wisdom about investing.
Consider how that process might have worked during the run-up to the 2006 turning point in home prices. In May 2005, two months before the peak in the N.A.H.B. traffic index, Consumer Reports magazine had a cover article, "Your Home: How to Protect Your Biggest Investment," that conveyed a very bullish sentiment.
"Despite years of dire warnings from some economists that the housing boom is about to end, it hasn't," the magazine said. "Indeed, last year prices rose even more — about 11 percent nationally."
The article went on to give advice: "You can no more time the real estate market than you can the stock market," it said. "If you need a house, and can afford one, go ahead and buy."
The article extended to the housing market the conventional wisdom that then prevailed about the stock market — namely, that it was quite efficient, without identifiable bubbles and bursts. According to this theory, there was an identifiable profit opportunity: buy and hold stocks, and by extension, housing, and watch your wealth grow.
But as 2005 continued, the conventional wisdom began to change. Some people in the United States were by then aware of the 2004-5 home price decline in Britain. Some were learning a new lexicon: "housing bubble," "housing crash" and "subprime mortgage." Newspapers and magazines began to include some derisive reviews of a March 2005 book by David Lereah, "Are You Missing the Real Estate Boom?" And accounts began to appear of the risky behavior of an army of real estate flippers.
In May 2005, I included in the second edition of my book, "Irrational Exuberance," a new data series of real United States home prices that I constructed, going back to 1890. I was amazed to discover that no one had published such a long-term series before.
This data revealed that the home price boom was anomalous, by historical standards. It looked very much like a bubble, and a big one. The chart was reproduced many times in newspapers and magazines, starting with an article by David Leonhardt in The New York Times in August 2005.
In short, a public case began to be built that we really were experiencing a housing bubble. By 2006 a variety of narratives, taken together, appear to have produced a different mind-set for many people — creating a tipping point that stopped the growth in demand for homes in its tracks.
THE question now is whether a strong case has been built for a new bull market since the home-price turning point in May 2009. Though there is no way to be precise, I don't believe it has.
Since that turning point, most public discourse on housing has not been about a new long-term view of the market. Instead, it focused initially on whether the recession was over and on the extraordinary measures the government was taking to support the housing market.
Now we're shifting into a new phase. The recession is generally viewed as being over, and those extraordinary measures are being lifted.
On March 31, the Federal Reserve ended its program of buying more than $1 trillion of mortgage-backed securities, and the homebuyer tax credit expires on April 30.
Recent polls show that economic forecasters are largely bullish about the housing market for the next year or two. But one wonders about the basis for such a positive forecast.
Momentum may be on the forecasts' side. But until there is evidence that the fundamental thinking about housing has shifted in an optimistic direction, we cannot trust that momentum to continue.
Authored by Forth Hoyt | Discussion: No Comments »
April 6th, 2010 Categories: Mortgage and Loans, National Real Estate Trends
Mortgage Rates Will Continue To Trend Higher As Economy Improves, Feds Quit Buying Mortgage Backed Securities
Courtesy; Evangeline Scott, Summit Funding and MMG Weekly
"YOU DON'T KNOW WHAT YOU GOT UNTIL IT'S GONE – AND I FOUND OUT A LITTLE TOO LATE…"Reserve's Mortgage Backed Security buying program The words from Chicago's hit song from the 80's sums up the market's sentiment on the ending of the Federal , and the resulting volatility for home loan rates that has already begun.
The Fed did what they set out to do – purchasing $1.25 Trillion in Mortgage Backed Securities, and succeeding in their plan to lower home loan rates and help stabilize the housing sector. And even though they stretched out the length of the program slightly – in order to soften the impact of the end of the program – the training wheels are now off, the safety net is gone, and home loan rates have already moved higher. In fact – as the Fed will now gradually become a seller of their massive holdings of Mortgage Backed Securities – rates are very likely to continue to move higher still.
Even after home loan rates took a jump higher last week, they still remain at reasonably low levels – which makes right now a crucial time to take advantage of the opportunities that exist, including the Homebuyers Tax Credit which is down to its last month. To take advantage of the generous credit, purchase contracts must be signed by the end of April. If you or someone you know has questions about this credit – please don't wait to get in touch with me.
Adding to last week's volatility, the official Jobs Report was released last Friday – and according to the report, 162,000 jobs were created in March, making it the biggest one-month increase in three years. Additionally, there were upward revisions to January and February, which brought the last two months' net job losses to near zero.
———————–
Chart: Nonfarm Payrolls (By Month)
While it was good to see some positive numbers, we're not exactly out of the woods just yet, as there were some concerning aspects of this Jobs Report. For example, Average Hourly Earnings actually fell 0.1% in March. This could be viewed as a negative sign, indicating that there's no pressure on companies to pay workers more to retain them. It also shows continued temporary hiring at a lower pay scale.
The official Unemployment Rate remained steady at 9.7%, but when factoring in the "underemployed", including people who accepted part-time work because full-time work is simply not available, the rate of unemployment overall rose from 16.8% to 16.9%. This is a big number that continues to weigh on the labor market.
Also in the news last week, the US Savings rate moved down to its lowest Level since October 2008. Check out the mortgage market guide view article below for some simple ways to boost your savings.
Forecast for the Week


This week's economic calendar may seem slow after the wave of economic news last week. But there are still some big items on tap, starting off right away Monday morning when the Pending Home Sales report gives us a look at the health of the housing industry.

Tuesday brings us the Meeting Minutes from the latest Fed Meeting. Although we already know what the Fed's policy announcement was, the markets will be looking at the discussion contained in the Meeting Minutes as an indication of what Fed members are thinking and what they may do in the future.

On Thursday we'll get another look at Initial Jobless Claims. Last week, Initial Jobless Claims were reported basically in line with expectations and down from the previous week's number, and Continuing Jobless Claims declined as well. With those numbers and last week's official Jobs Report in mind, the market will be watching to see if the labor market can continue to make positive strides.

Finally, in addition to those reports, the Treasury Department will auction off $82 Billion in Treasuries. And since most of those will be longer maturities that compete with Mortgage Backed Securities, the auctions could add volatility to the markets depending on how they are received.

Remember: Weak economic news normally causes money to flow out of Stocks and into Bonds, helping Bonds and home loan rates improve, while strong economic news normally has the opposite result. As you can see in the chart below, Mortgage Bond prices plunged last week and rates increased .25%.

Chart: Fannie Mae 4.5% Mortgage Bond (Friday Apr 09, 2010)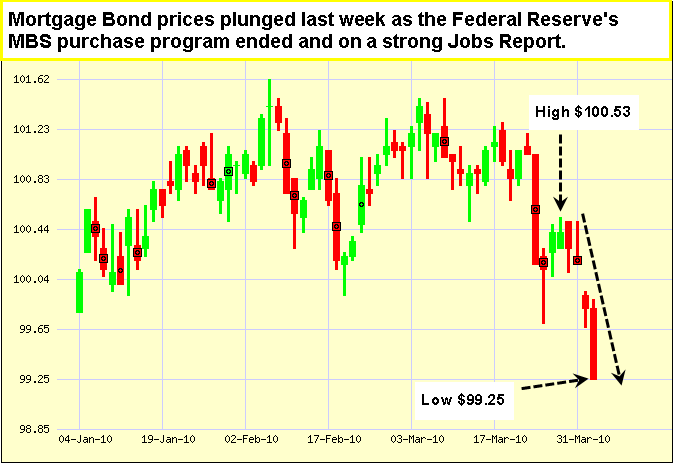 Authored by Forth Hoyt | Discussion: No Comments »
January 28th, 2010 Categories: Mortgage and Loans, National Real Estate Trends
The Federal Reserve offered its most upbeat economic outlook in nearly a year at the conclusion of its regular two-day policy meeting Wednesday.
After emerging from the closed-door assembly, the Fed committee issued a statement that touted improvements in the labor market and business spending, but cautioned that "recovery is likely to be moderate for a time."
Taken directly, it may not sound like a rave review, but when you compare it to what Fed officials have been saying since last April-"Economic activity is likely to remain weak for a time"-it's certainly an improvement.
Even with the rosier outlook, the Federal Reserve committee voted to keep the target range for its benchmark federal funds rate at 0 to 0.25 percent, and noted that "economic conditions…are likely to warrant exceptionally low levels of the federal funds rate for an extended period."
The decision to maintain the near-zero rate, though, was not unanimous – the first dissenting vote among Fed policymakers since January 2009, according to a CNN report. Thomas M. Hoenig, Kansas City Fed president, felt
economic conditions had improved enough to make exceptionally low rates "no longer warranted," according to the central bank's statement.
Fed officials are holding to their plans of pulling back from the secondary market in the coming months. The committee confirmed that its program to purchase mortgage-backed securities (MBS) and debt from the GSEs will come to a close on March 31, as previously signaled. By that time, the Fed says it will have bought $1.25 trillion of MBS and about $175 billion of agency debt. The Federal Reserve has already begun to slow the pace of these purchases to help facilitate a smooth transition when the agency makes its exit.
Michael S. Barr, assistant secretary of the Treasury, says now that markets have begun to stabilize, private participants will start to return when the Fed withdraws its support. He told the Washington Post, "I'm not going to say there will be no effect on rates," but it should be an orderly transition.
The Fed said it will also be closing a number of its temporary credit facilities over the next few months. The anticipated expiration dates for the Term Asset-Backed Securities Loan Facility (TALF) remain set at June 30 for loans backed by new-issue commercial mortgage-backed securities and March 31 for loans backed by all other types of collateral.
The Fed's meeting adjourned a day before its top central banker, Ben Bernanke, learns if he will continue as the agency's chairman after Sunday, when his current term expires. The Senate has scheduled a key vote for Thursday that could instill the Great Depression scholar for another four years, although approval is not a slam dunk. A growing faction of Democrats have already indicated they will not support Bernanke's reinstatement.
Authored by | Discussion: No Comments »
January 26th, 2010 Categories: National Real Estate Trends, Real Estate News
Titanium Holdings Launches Excellen REO
Loss Mitigation Solutions Provider Expands Presence in to REO Space
Titanium Holdings, Inc., the parent company of Titanium Solutions, Inc., a provider of loss mitigation solutions, recently announced the launch of a new business unit, Excellen REO. Excellen REO is a full service REO asset management company that offers a complete suite of services designed to create a customized property liquidation process for each client.
"As the mortgage industry faces various challenges during this economic downturn, the success we have experienced with Titanium Solutions for more than a decade has uniquely positioned us to understand and respond to the changing needs of our clients," Patrick Carey, CEO of Titanium Holdings, explained. "We have made a number of strategic decisions during the past year and the launch of Excellen REO is the latest result of that effort. Excellen REO will help us expand the client relationships that we have built over the years and establish new partnerships as we offer a comprehensive solution to all of their property liquidation needs."
Cary Sternberg, president of the new company, leads Excellen REO. With almost 40 years of experience in asset preservation, management and liquidation, Sternberg is the former senior vice president of the REO department for American Home Loan Servicing, Inc. In this position Sternberg managed more than 200 employees and 33,000 assets. His previous titles also include first vice president of home loan servicing and REO of Indymac Bank FSB, national REO manager of Ocwen Federal Bank FSB, president of Virginia Commonwealth Realty and senior vice president of American Family Homes.
"We have assembled a staff that leverages decades of experience in REO management and key business partners across the country," Sternberg said. "Titanium Holdings has created a formidable reputation in the industry and I look forward to garnering that same level of trust for Excellen REO."
Excellen REO services include pre-marketing, valuations, marketing and sales negotiation, closing and funding and alternative sales methods. The company will leverage a nationwide network of real estate brokers and local eviction attorneys, as well as property preservation companies.
Authored by | Discussion: No Comments »
December 31st, 2009 Categories: Default News, National Real Estate Trends, Pre Foreclosures, Sacramento Home Buyers, Sacramento Real Estate Trends, Shortsales
Buying a Sacramento short sale will definitely become easier and easier in the next several months and the process will continue to evolve, change, and morph into a more traditional transaction for years to come.
Buying A Short Sale
Contact a Certified Short Sale Agent about buying a short sale.
However; your Buyers Agent- if they are at all experienced with with todays market- will know that there are some short sales will never close!Secondary Mortgages (any Junior Liens) that have been added after the purchase or have been refinanced (any non purchase money loans) are full recourse in California– the first will go away with the house– no matter what; if it goes to foreclosure, closes as a short sale, whatever… but non-purchase money seconds may stay intact and become non-secured debt… just like credit card debt.Short Sale qualifying is just asking questions; the right questions will allow yor agent to find shortsales that have a high chance of being approved: Your Short Sale Specialist will find out things like:1) The Kind of loans involved; recourse or non-recourse.2) If recourse; the sellers (think homeowners) financial situation, hardship status and/or their willingness/ability to make a contribution, sign a note, or otherwise pay off any secondary note holders demand (which may be full recourse).3) Which banks are involved and their policies regarding first liens, secondary liens, recourse debt, hardship rules etc.4) Know the market, the absolute market value of the home– (banks don't like to leave money on the table) what the Broker's Price Opinion, or Appraised value of the home will be and the amount of money the first will be short; and the policies of each bank involved–If you don't know these things gong in, you will find them out during the process, usually weeks or months into the short sale process… Contact a Certified Short Sale Agent about buying a short sale right here.  Many, many times, the short sale you have fallen in love with and cannot live without may very well become an REO.There is also the chance that your short sale will, at the eleventh hour, not be approved because the banks or servicers suddenly want to include language stating the seller agrees that the lender has the right to pursue a deficiency judgment or the balance unpaid on the promissory note… Many homeowners, when they realize this problem is not going away, file bankruptcy– again, at the eleventh hour- after you and your family have been waiting months for the home of your dreams.Make sure your Buyer's agent is also a Sacramento short sale listing agent and a Sacramento Short Sale Specialist and works with a team that specializes in these complicated and ever-changing transactions!Short sale negotiating is definitely a moving target– it is nearly a full-time job just to stay on top of educated of all the different banks, servicers, secondary investors rules of procedure and the institutional/political policy changes.Some short sales will never close! Find out why!By the way…here's where I remind everyone that I am NOT a lawyer, and that if you have any questions or concerns about your legal situation– get an attorney! I have several great Real Estate Law, Mortgage Law, Contract Law and Bankruptcy Law specialists that I can refer you to!
Contact a Certified Short Sale Agent about buying a short sale.
Authored by | Discussion: 2 Comments »
December 29th, 2009 Categories: Default News, Loan Modification, National Real Estate Trends
Folsom Short Sales will definately be more popular in some Neighborhoods. Folsom homes that were built and sold in 2005 and 2006 will probably be where you are going to see the most short sales in Folsom.
You see, new home builders used negative am, Adjustable rate Mortgages and Pick-a-pay programs to get the most money possible for their homes. These artificially low payments allowed buyers who could normally not afford these larger homes buy them.
Now, amidst a huge market value decline and the worst economy in decades, those loans are coming unlocked.
Most of these homeowners will qualify for some type of loan modification program, may at least get the adjustable rate changed to a fixed. Some will have to extend the mortgage out to 40 or 45 years, because most secondary investors who own the note are not interested in any kind of principle reduction.
Many will go into the new HAMP program, a ninety day trial modification where after a successful trial period the homeowner applies for a long term modification. The short sale will be the best solution for those who do not qualify or choose not to do a modification.
The administration is urging participating servicers to follow through with short sales as an alternative to foreclosure for those homeowners that don't qualify for a reworked mortgage under the Home Affordable Modification Program (HAMP).
Under the terms of the new program, once a servicer determines a homeowner does not qualify for a modification, the servicer has a 30-day window in which the borrower must be considered for the HAFA program. Each participating servicer is required to develop a written policy, consistent with investor guidelines, that describes the basis on which the servicer will offer the HAFA program to borrowers
Authored by | Discussion: No Comments »
December 18th, 2009 Categories: Default News, Mortgage and Loans, National Real Estate Trends, Pre Foreclosures
First American Puts 'Shadow Inventory' at 1.7 Million
From DSNewsThere were 1.7 million REOs and homes facing imminent foreclosure that had not yet hit the market at the end of the third quarter, according to data released Thursday by First American CoreLogic.
The company says that at the current sales pace, it would take 3.3 months to get rid of this looming "shadow inventory." By comparison, First American CoreLogic says shadow inventory a year ago was 1.1 million, representing a 2.4 month backlog.
Shadow inventory is not included in official measures of unsold inventory. According to First American CoreLogic's
analysis, the visible supply of unsold inventory – accounting for new and existing homes that are currently on the market – was 3.8 million units in at the end of September, down from 4.7 million a year earlier. The visible months' supply fell to 7.8 months in September 2009, down from 10.1 months a year earlier.
Together, total inventory of unseen and marketed properties comes to 5.5 million units as of September 2009, an 11.1 months' supply of homes. That figure is down from a total inventory of 5.7 million a year ago, which equates to a 12.7 months backlog.
First American CoreLogic says this indicates that while the visible months' supply has decreased and is beginning to approach more normal levels, adding in the pending supply reveals there is still quite a bit of inventory that will impact the housing market for the next few years.
Just how big of an impact the shadow inventory makes will depend on whether it hits the market in large fell swoops or makes its way out of the darkness in steady, manageable streams. According to a new report from Radar Logic, the looming distressed property supply will enter the housing market at a controlled rate that can be absorbed by existing demand without drastically reducing prices
Authored by | Discussion: No Comments »