Archive for the 'Mortgage and Loans' Category
October 3rd, 2014 Categories: Mortgage and Loans, Real Estate Trends, Sacramento Home Buyers, Sacramento RE Stats, Sacramento Real Estate, Sacramento Real Estate Trends
Home Buyers in Sacramento frequently ask me "What Type of Mortgage Should I Get?" Especially here in our Competitive Sacramento Real Estate Market, Choosing The Right Mortgage Program  is an important part of the home buying process.
Before you Decide on a Home Loan. There are a few things you should be clear on as a home buyer.
First, just be ready to enter a competition: As a home buyer in today's Sacramento Home Market, you are one of many, many, well informed and well educated price hunters. And you are all judges in a very complex beauty pageant! Price and value are so important and so critical to today's Sacramento home buyers, that homes that are priced well and conditioned correctly are attracting multiple offers.  And these Beauty Pageant and Price War winners are going for full or above full asking prices quickly. Buying a home in Sacramento has become very, very competitive  over the last few years.  Even with the recent increase in the number on homes for sale here, we are seeing many, many homes selling for asking or over asking price, within days of being placed on the market-
So, if you see a home and fall in love with the condition, location and price… in nearly every single case, many other buyers will find it and fall in love as well- and the sellers must pick through multiple offers to find the offer that meets their needs and also represents the strongest, most likely offer to be successful and close on time -The next step in for you home purchase is actually deciding who you want on your team. Having the right Lender, the right Agent and  has become critical in this competitive real estate market.
No matter Which Home Loan You Decide to use, it's best to be clear about certain points-
How long will I live in this house?
What are my five or ten years goals
Do I want to make home improvements?
Do I need cash on hand for other expenses or  other investments?
Do I like to take financial risks?
Do I want to be debt-free?
Getting clear on these basic, fundamental goals. This always seems to make Choosing Your Home Loan much easier-
The next step in choosing a mortgage for you home purchase is actually deciding who you want on your team. Having the right Lender, the right Agent and choosing the right type of home loan has become critical in this competitive real estate market.
So as a home buyer in the , building a winning team of professionals, people who have a winning track record and a track record of success is the most critical thing you can do-
All of these scenarios and choices will need to be considered as you and your mortgage lender Discover Which Loan Program Works Best for you.
Once you choose a lender and provide the Documents Needed for a Home Loan, you will be asked to clarify your goals, your objectives in order to identify the different  types of home loans you qualify for and that meet your needs and goals:
The conventional 30-year fixed loan may not be for you. Consider and compare all the options. There are hundreds of mortgage products out there, so be sure to find the right one for your needs. Before you approach any lenders, figure out your financial strategy.
Now that you have a reasonable picture of your financial philosophy, shop around and evaluate your options. Don't rush into the first loan offer you get.
If you can afford to take financial risks and have the assets and credit score to back it up, you can get the best deals. Go for mortgage products that allow you to pay the least amount of cash while still satisfying your loan obligation. Consider these:
You can choose a longer loan term, such as 30 years or more. The longer your amortization period, the lower your monthly payments would be, but the more interest you'd pay. If you borrow $100,000 at 8 percent interest over 30 years, you would pay $164,000 in interest along with the principal by the end of the term. Your mortgage payment would be $733 a month. A 15-year mortgage, in contrast, would require a $955 monthly payment.
Skip the down payment and go for an "80-20" loan. A standard loan funds the first 80 percent and a second loan with higher interest rates finances a 20 percent down payment. This option also gets rid of private mortgage insurance, or PMI, which is typically required for homes bought without 20 percent down payments. PMI protects the lender in the event that a borrower defaults on a loan.
Consider an adjustable rate mortgage (ARM) if you want to keep some cash or take advantage of a low interest rate. The rate is fixed for the first few years, then begins floating. But be aware of market conditions – if rates rise, so do your payments. This option makes sense for serial relocators, who don't plan to be in a home for more than five years. A three or five-year ARM lets you make low payments and gets you through the typical mortgage cycle. If rates drop, you can refinance. If rates rise, you can sell.
Interest-only mortgages also let you keep more cash. They do not require principal payments during an initial period, typically three, five or 10 years. After the initial period, borrowers must begin repaying principal over the remaining life of the loan. By comparison, a traditional amortizing loan requires principal and interest payments from day one, with more of the monthly payment going to interest in the early years and to principal in the later years.
Homeowners can lower their monthly payment by 20 percent to 25 percent by skipping principal payments in the early years, but they must be prepared for a big jump in payments when the interest-only period ends. A lower initial monthly payment may also allow you to qualify for a bigger home loan. The downside? When housing prices fall, you could end up owing more on your home than it's worth.
To qualify, you normally must have good credit or pay a slightly higher fee or interest rate. Balloon payment mortgages are short-term, fixed-rate loans that involve small payments for a certain time period and then one large payment (the balloon payment) for the remainder of the loan.
If you don't like debt and risk, you may want to stick with conventional loans with fixed rates and shorter terms, making big down payments and extra principal payments whenever possible. If you go with a 30-year mortgage, you could refinance after 10 years. You could get a lower rate and dramatically reduce your principal balance in a shorter period.
Here are more tips for finding the right home loan:
Use Mortgage Calculators and other tools that let you see exactly how much you'll have to pay under various scenarios
Build your Home Purchase Team! Having the right Lender, the right Agent and the right type of home loan becomes critical in this competitive real estate market. Team- find the a great lender, a great Agent and start learning- meet with  working with a mortgage broker.
Decide if you're willing to pay for points to get a lower interest rate, or take a higher rate to keep closing costs down.
Combine different loan features to create a loan that's comfortable for you.
Factor in costs like property taxes, insurance and homeowner's association fees. Will your lender hold these in escrow?
Ask about alternative loan terms, such as 20 years, 15 years. They exist though many lenders don't advertise them.
Consider refinancing your current home if you need cash for a second home.
Buying or selling a home in the Sacramento area is a huge project.  Get educated and take your time- interview several professionals in each area where you will need a consultant and advisor- Real Estate Agents and Mortgage Lenders are not all created equal!
Before you interview us, listen to Listen to what our past clients and what you have to look forward to! 
The Hoyt Group Testimonials
from happy clients
Then, give us a call, text, or email!
Forth 
p.s. 
Do you know what your home is worth? Forth does! 
Forth Hoyt 
CRS, CDPE, IMSD, A-REO, SFR, SRES,  
e-PRO, RDCPro, PFC,Certified HAFA Specialist, 
Master's Club Life Member
The Hoyt Group Keller Williams Realty 
916-248-7777 
DRE 01319540
[email protected]
Authored by Forth Hoyt | Discussion: No Comments »
June 2nd, 2012 Categories: Mortgage and Loans
How Do I Increase My Credit Score? Can I increase my credit score myself?
I've recently been getting lots of inquiries about credit scores. So here's some quick tips to help you increase your overall credit score.
First, never cancel a credit card that is more than 2 years old. Having a "seasoned"
account, one that is more than 2 years old is a big plus for you. Next, increase your maximum allowable credit limit. In other words, if you have a credit card that is close to its maximum balance, call the credit card company and ask them to increase the credit limit.
The credit bureaus don't like to see maxed out credit. Tell them you would like them to do this without pulling your credit. You should also spread out your balances among your cards. Try to keep the ratio between card balances and credit limit to 30% or less.
If you are even considering buying a new home or refinancing, let me know! I work with several credit specialists that will quickly take a look and see if we need to do some work to get your credit score up. Since lower scores mean higher interest rates, even a few lost points on your credit score could cost you tens of thousands of dollars in wasted interest payments. Don't wait! Call, text or email me soon so I can schedule your complimentary credit review. I am here to help improve the quality of your life and to save you some of your hard earned money.
Thanks again for letting me enter your world each week and thanks for the referrals of your friends and family. I appreciate it and so do they, I promise you that!
Authored by Forth Hoyt | Discussion: No Comments »
November 5th, 2011 Categories: Loan Modification, Mortgage and Loans
People ask me all the  time; Do you have to be turned down for a loan mod before you can Short Sale your home?
Well, the aswer is an emphatic NO! but why wouldn't you try? Even though less than 5% are successful; you've GOT to try to modify your loan and  and stay in your home right?
The next question is always: who can help me with loan modification in Folsom? I am always happy to… and I get the request so often now, I have even written a report and and Easy Do it yourself Loan Mod System…
Finally! Folsom Loan Modification Help!
Folsom's Multi-Certified Pre-Foreclosure Expert and Short Sale Expert Forth Hoyt; and Home Retention Advocate, along with Foreclosure Options Experts At Wereheretohelp.org and Folsom Keller Williams have written and recently compiled an in-depth loan modification packet to help Folsom Homeowners keep their homes.
This is a brand new report that includes step by step loan modification instructions and "Folsom do it yourself Loan Mod Kit" available to Folsom Residents who are upside down for free!
Authored by Forth Hoyt | Discussion: No Comments »
September 9th, 2011 Categories: Loan Modification, Mortgage and Loans
What is your successful Natomas loan modification going to look like?
Loan modification, the systematic alteration of contractual mortgage loan agreements, has been around in the United States for over 70 years.  During the Great Depression many loan mod programs were sponsored and executed at the state level in an effort to reduce levels of loan foreclosures.
Natomas Foreclosure Options Expert, Certified Foreclosure And Short Sale Specialist and Successful Short Sale Agent Forth Hoyt Provides Information on Successfully Negotiating a Loan Modification With your Bank…  and gives access to a free report entitled "Your Guide To A Successful Loan Mod"
It uncovers the truth about loan mod's: only a modification that provides a long term, sustainable solution can be considered a success…
Here is just a part of Section One:
You, Your Family and your Mortgage
Begin With The End In Mind
What is your goal? What's the target? What exactly do you want/need in order for you to make it? Know your outcome! 
What is your successful loan modification going to look like?
Take a hard, realistic look at your situation and ask yourself  what changes your bank would need to make in order for you to manage your payment. Keep in mind that if you can get the changes you need in the form of an affordable payment, the duration of the payment adjustment must provide you enough time to get back on firm financial footing. Otherwise, you will be right back in a bad situation before you know it. So you must have a goal: what changes do you need and how long do you need them? What Will your Secessful Loan Mod Look Like? How Will You Know If Your Loan Mod Is A Success?
Win-Win or No Deal
These decisions and clearly defined expectations of your outcome are not easy to make, but they are necessary. By knowing the minimum modification, the minimum amount of time you will settle for, you can move forward knowing that anything less is a waste of time. When you what you want and need you are on your way towards recovery. Just remember, treat it like a business decision. Be realistic, know what you need, and don't settle for a solution that is not really a solution.
You are NOT the Villain Here
American families are facing more economic difficulty than at any time in the past 70 years. Not since the Great Depression have there been so many families facing serious many financial obstacles.
A large part of the problem was brought on by the financial market excesses of the first six years of the 21st century (2001 thru 2006). Real estate values reached dizzying levels, leading American Families to feel intoxicated by the "wealth effect." And, everyone wanted in. As prices went up, the mortgage industry came up with new and creative loan programs that made it possible to buy homes that people really couldn't afford. Make no mistake, these programs were not designed for the common good, these creative loan products were not driven by the desire to increase homeownership for the benefit of society. No, the loans were originated, packaged, sold, chopped up, repackaged and sold again with one thing in mind — quick and substantial profit.
It's true, many American families may have made choices that were not as responsible as they should have been.  However if the go-go loans had never been created and the call centers and telemarketers pushing the toxic loans never existed, most of those same American families would have continued to live within their means. But instead, the entire mortgage, real estate and banking and investing industries pushed these programs: from loan officers, appraisers, real estate agents and brokers, mortgage bankers, underwriters, Wall Street entrepreneurs and many others all played their parts.
Much of the mortgage mess we are dealing with now is a direct result of a mortgage industry that during those first several years of this century to completely abdicated their responsibility to verify a borrower's ability to pay when making a mortgage loan.
Need how to loan mod How-To's?Looking for someone to give you the how to loan mod step-by-step? Continue reading or order your Loan Modification How To's Here: Guide to A Successful Loan Mod
More Questions on your Particular Situation?
Contact us today at Forth Hoyt's Sacramento Short Sale Center
Or find out here about New Government Foreclosure Prevention Program Eligibility- Which Programs Do You Qualify For?
I am not an attorney, and you should talk to one!! Call for a referral!
Authored by Forth Hoyt | Discussion: No Comments »
July 12th, 2010 Categories: Mortgage and Loans
From DSNEWS.COM
The weekly mortgage rate reports released Thursday by Freddie Mac and Bankrate were mixed. But one thing was certain: the average rate for 30-year fixed-rate mortgages hit a new record low.
According to Freddie Mac's Primary Mortgage Market Survey, 30-year fixed-rate mortgages averaged 4.57 percent with an average 0.7 point for the week ending July 8, 2010, inching down from last week's average of 4.58 percent. Freddie Mac said this rate marked yet another all-time low in its 39-year survey.
Bankrate also reported a decline in 30-year fixed-rate mortgages. According to its weekly mortgage survey, rates averaged 4.74 percent with an average 0.39 point
this week, falling from last week when 30-year fixed-rate mortgages averaged 4.75 percent.
The story was different for 15-year fixed-rate mortgages, though.
Freddie Mac said 15-year fixed-rate mortgages averaged 4.07 percent with an average 0.7 point this week, edging up from 4.04 percent one week earlier. And Bankrate said 15-year fixed-rate mortgages came in at 4.22 percent with an average 0.36 point, a minor uptick from last week's average of 4.2 percent.
Despite the slight increase in 15-year fixed-rate mortgages, both Fannie Mae and Bankrate noted that on an overall basis, mortgage rates continued to linger near ultra-low levels, a benefit to homebuyers and refinancers alike.
"With mortgage rates falling to historic lows, refinance activity has been strong over the past three months," said Frank Nothaft, Freddie Mac VP and chief economist.
"The Bureau of Economic Analysis reported that the effective mortgage rate of all loans outstanding was just below 6 percent in the first quarter of 2010, the lowest since the series began in 1977," Nothaft said. "Since the start of the second quarter, two out of three mortgage applications on average were for refinancing, according the Mortgage Bankers Association."
Authored by Forth Hoyt | Discussion: 1 Comment »
April 6th, 2010 Categories: Mortgage and Loans, National Real Estate Trends
Mortgage Rates Will Continue To Trend Higher As Economy Improves, Feds Quit Buying Mortgage Backed Securities
Courtesy; Evangeline Scott, Summit Funding and MMG Weekly
"YOU DON'T KNOW WHAT YOU GOT UNTIL IT'S GONE – AND I FOUND OUT A LITTLE TOO LATE…"Reserve's Mortgage Backed Security buying program The words from Chicago's hit song from the 80's sums up the market's sentiment on the ending of the Federal , and the resulting volatility for home loan rates that has already begun.
The Fed did what they set out to do – purchasing $1.25 Trillion in Mortgage Backed Securities, and succeeding in their plan to lower home loan rates and help stabilize the housing sector. And even though they stretched out the length of the program slightly – in order to soften the impact of the end of the program – the training wheels are now off, the safety net is gone, and home loan rates have already moved higher. In fact – as the Fed will now gradually become a seller of their massive holdings of Mortgage Backed Securities – rates are very likely to continue to move higher still.
Even after home loan rates took a jump higher last week, they still remain at reasonably low levels – which makes right now a crucial time to take advantage of the opportunities that exist, including the Homebuyers Tax Credit which is down to its last month. To take advantage of the generous credit, purchase contracts must be signed by the end of April. If you or someone you know has questions about this credit – please don't wait to get in touch with me.
Adding to last week's volatility, the official Jobs Report was released last Friday – and according to the report, 162,000 jobs were created in March, making it the biggest one-month increase in three years. Additionally, there were upward revisions to January and February, which brought the last two months' net job losses to near zero.
———————–
Chart: Nonfarm Payrolls (By Month)
While it was good to see some positive numbers, we're not exactly out of the woods just yet, as there were some concerning aspects of this Jobs Report. For example, Average Hourly Earnings actually fell 0.1% in March. This could be viewed as a negative sign, indicating that there's no pressure on companies to pay workers more to retain them. It also shows continued temporary hiring at a lower pay scale.
The official Unemployment Rate remained steady at 9.7%, but when factoring in the "underemployed", including people who accepted part-time work because full-time work is simply not available, the rate of unemployment overall rose from 16.8% to 16.9%. This is a big number that continues to weigh on the labor market.
Also in the news last week, the US Savings rate moved down to its lowest Level since October 2008. Check out the mortgage market guide view article below for some simple ways to boost your savings.
Forecast for the Week


This week's economic calendar may seem slow after the wave of economic news last week. But there are still some big items on tap, starting off right away Monday morning when the Pending Home Sales report gives us a look at the health of the housing industry.

Tuesday brings us the Meeting Minutes from the latest Fed Meeting. Although we already know what the Fed's policy announcement was, the markets will be looking at the discussion contained in the Meeting Minutes as an indication of what Fed members are thinking and what they may do in the future.

On Thursday we'll get another look at Initial Jobless Claims. Last week, Initial Jobless Claims were reported basically in line with expectations and down from the previous week's number, and Continuing Jobless Claims declined as well. With those numbers and last week's official Jobs Report in mind, the market will be watching to see if the labor market can continue to make positive strides.

Finally, in addition to those reports, the Treasury Department will auction off $82 Billion in Treasuries. And since most of those will be longer maturities that compete with Mortgage Backed Securities, the auctions could add volatility to the markets depending on how they are received.

Remember: Weak economic news normally causes money to flow out of Stocks and into Bonds, helping Bonds and home loan rates improve, while strong economic news normally has the opposite result. As you can see in the chart below, Mortgage Bond prices plunged last week and rates increased .25%.

Chart: Fannie Mae 4.5% Mortgage Bond (Friday Apr 09, 2010)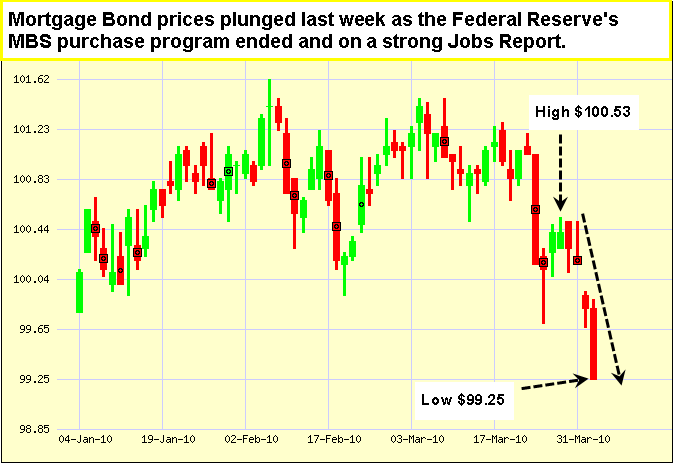 Authored by Forth Hoyt | Discussion: No Comments »
January 28th, 2010 Categories: Mortgage and Loans, National Real Estate Trends
The Federal Reserve offered its most upbeat economic outlook in nearly a year at the conclusion of its regular two-day policy meeting Wednesday.
After emerging from the closed-door assembly, the Fed committee issued a statement that touted improvements in the labor market and business spending, but cautioned that "recovery is likely to be moderate for a time."
Taken directly, it may not sound like a rave review, but when you compare it to what Fed officials have been saying since last April-"Economic activity is likely to remain weak for a time"-it's certainly an improvement.
Even with the rosier outlook, the Federal Reserve committee voted to keep the target range for its benchmark federal funds rate at 0 to 0.25 percent, and noted that "economic conditions…are likely to warrant exceptionally low levels of the federal funds rate for an extended period."
The decision to maintain the near-zero rate, though, was not unanimous – the first dissenting vote among Fed policymakers since January 2009, according to a CNN report. Thomas M. Hoenig, Kansas City Fed president, felt
economic conditions had improved enough to make exceptionally low rates "no longer warranted," according to the central bank's statement.
Fed officials are holding to their plans of pulling back from the secondary market in the coming months. The committee confirmed that its program to purchase mortgage-backed securities (MBS) and debt from the GSEs will come to a close on March 31, as previously signaled. By that time, the Fed says it will have bought $1.25 trillion of MBS and about $175 billion of agency debt. The Federal Reserve has already begun to slow the pace of these purchases to help facilitate a smooth transition when the agency makes its exit.
Michael S. Barr, assistant secretary of the Treasury, says now that markets have begun to stabilize, private participants will start to return when the Fed withdraws its support. He told the Washington Post, "I'm not going to say there will be no effect on rates," but it should be an orderly transition.
The Fed said it will also be closing a number of its temporary credit facilities over the next few months. The anticipated expiration dates for the Term Asset-Backed Securities Loan Facility (TALF) remain set at June 30 for loans backed by new-issue commercial mortgage-backed securities and March 31 for loans backed by all other types of collateral.
The Fed's meeting adjourned a day before its top central banker, Ben Bernanke, learns if he will continue as the agency's chairman after Sunday, when his current term expires. The Senate has scheduled a key vote for Thursday that could instill the Great Depression scholar for another four years, although approval is not a slam dunk. A growing faction of Democrats have already indicated they will not support Bernanke's reinstatement.
Authored by | Discussion: No Comments »
December 22nd, 2009 Categories: Mortgage and Loans, Pre Foreclosures, Shortsales
NEW GOVERNMENT SHORT SALE GUIDELINES:
Loan Mod Fails? Stop Foreclosure with Short Sale/Deed-in-Lieu!
Foreclosure Alternatives for Borrowers Eligible for MHA but Unable to Sustain a Modification
Government
Making Home Affordable
On Feb.18th 2009 the Obama Administration announced the Making Home Affordable (MHA) Program, a comprehensive plan to stabilize the US housing market and offer assistance to up to 7 to 9 million homeowners by reducing mortgage payments to affordable levels and preventing avoidable foreclosures. They are betting on the fact that most homeowners will stick around in a home that is upsidedeown, as long as they can afford it.(low enough monthly payment). Then, two weeks later on March 4th
, they (the Administration) published details of a program that authorized servicers to begin modifications and refinancings under the plan immediately. On April 28th, the Administration announced additional details related to the Second Lien Program and strengthening Hope for Homeowners. Fourteen servicers, including the five largest, have now signed contracts and begun modifications and refinancings under MHA. Between loans covered by these servicers and loans owned or securitized by Fannie Mae or Freddie Mac, more than 75 percent of all loans in the country are now covered by the MHA program.
 The rest of this post is directly from a press release way back on May 14th, 2009. It shows that they have been pushing for short sales as a foreclosure most of this past year!
Today we are providing a program update, including additional details on Foreclosure Alternatives and Home Price Decline Protection Incentives. Foreclosure Alternatives will help to prevent costly foreclosures by providing incentives for servicers and borrowers to pursue short sales and deeds-in-lieu of foreclosure in cases where a borrower is eligible for a MHA modification but unable to complete the modification process. This program will assist homeowners who cannot afford to stay in their homes by helping them to avoid foreclosure and relocate to a home they can afford. Building on insights developed by the FDIC, Home Price Decline Protection Incentives will provide additional payments based on recent home price declines, and therefore will incentivize additional modifications in areas where home prices have been falling. By increasing MHA modifications and the use of alternatives to foreclosure, we will reduce the negative impact of foreclosure, minimizing damaging costs for financial institutions, borrowers and communities.
Home Price Decline Protection Incentives and Foreclosure Alternatives, together with the other comprehensive elements of the Making Home Affordable program, will help to stabilize property values for homeowners in neighborhoods hardest hit by foreclosures. Based on estimates of the relationship between foreclosures and home prices, the Home Affordable Modification program could help to bolster home values for the average homeowner by as much as $6,000.
Foreclosure Alternatives and Home Price Decline Protection Incentives
1. Foreclosure Alternatives for Borrowers Eligible for MHA
• Short Sales/Deeds-In-Lieu Program to Facilitate Foreclosure Alternatives o
Incentives for servicers to pursue alternatives to foreclosures o
Borrower incentives to cover relocation expenses to homes that are affordable o
Streamlined process combining short sales and deed-in-lieu transactions
2. Home Price Decline Protection Incentives to Protect Against Falling Home Prices
• Incentives to support modifications in markets hardest hit by falling home prices
o Provides incentives for modifications by providing payments based on recent declines in home prices to reduce the risk of loss to lenders from modifications compared to alternatives that could result in the loss of homeownership ?
Foreclosure Alternatives for Borrowers Eligible for MHA but Unable to Sustain a Modification: For eligible borrowers unable to retain their homes through a Home Affordable Modification, MHA will provide incentives to borrowers, servicers and investors to encourage short sales and deeds-in-lieu. Both allow families and servicers to avoid the costly foreclosure process, and to minimize the negative impact of foreclosures on borrowers, financial institutions and communities.
Short Sales/Deeds-In-Lieu Program to Facilitate Foreclosure Alternatives
When a borrower meets the eligibility requirements for a Home Affordable Modification (HAMP) but does not qualify for a modification or cannot maintain payments during the trial period or modification, the servicer may consider a short sale, and if that is unsuccessful, a deed-in-lieu (DIL).
Both a short sale and a DIL provide an opportunity for borrowers and servicers to avoid the foreclosure process. In a short sale, a servicer allows the borrower to sell the property at its current value, even if the sale nets less than the total amount owed on the mortgage. Approval of a short sale requires the borrower to list and actively market the home at its fair value. The sale must be an arms length market transaction with all proceeds (after selling costs) applied to the discounted mortgage payoff. If the borrower actively markets the property but is unable to sell it within the agreed upon time period, a servicer may consider a DIL. With a DIL, the borrower voluntarily transfers ownership of the property to the servicer – provided the title is free and clear.
Short sales and DILs are complex transactions involving careful coordination and close cooperation among a number of parties — servicers, appraisers, borrowers, purchasers, real estate brokers, title agencies and often mortgage insurance companies and junior lien holders. A short sale or DIL usually provides a better outcome for borrowers, investors and communities. However, due to the complexity of and time required for completion of these transactions, servicers historically have often opted to pursue foreclosure instead, even where a short sale or DIL would have provided a substantially better outcome for borrowers, investors and communities.
The MHA Foreclosure Alternatives Program simplifies and streamlines the short sale and DIL process by providing a standard process flow, minimum performance timeframes and standard documentation. To compliment a standardized approach, Treasury provides incentives to borrowers, servicers and investors to pursue short sales and DILs.
How The Home Affordable Short Sale/DIL Program Works:
Borrower Eligibility. Borrowers will be eligible for the Foreclosure Alternative Program if they meet the minimum eligibility criteria for a Home Affordable Modification but did not qualify for a modification or were unable to sustain payments under a trial period plan or a modification. Prior to proceeding to foreclosure, participating servicers must evaluate each eligible borrower to determine if a short sale is appropriate. Considerations in the determination include property condition and value, average marketing time in the community where the property is located, the condition of the title including the presence of junior liens and a determination that the net sales proceeds are expected to exceed the investor's recovery through foreclosure Incentive Payments.
?
Servicers may receive incentive compensation of up to $1,000 for successful completion of a short sale or DIL.
??? Borrowers may receive incentive compensation of up to $1,500 to assist with relocation expenses.

??????Treasury will also share the cost of paying junior lien holders to release their claims, matching $1 for every $2 paid by the investors, up to a total contribution of $1,000 by Treasury.

Standardized Documentation: The program will publish streamlined and standardized documentation, including a Short Sale Agreement and an Offer Acceptance Letter. These documents will outline specific marketing terms, describe the rights and responsibilities of all parties and establish clear timeframes for performance. Creating one standard set of documents that the industry can use is expected to minimize the complexity of these transactions and significantly increase use of the short sale option.
Property Valuation: The servicer will independently establish both property value and the minimum acceptable net return in accordance with investor guidance and will provide instruction to the borrower regarding the list price and any permissible price reductions. The price may be determined based on either: (1) an appraisal performed in accordance with USPAP and/or (2) one or more Broker Price Opinions either of which must be dated within 120 days of the Short Sale Agreement.
Minimum and Maximum Duration: Under the program, servicers will allow borrowers at least 90 days to market and sell the property, with possibly more time based on local market conditions. The property must be listed with a licensed realtor experienced in selling properties in the neighborhood. Marketing of the property may run concurrently with the foreclosure process, however no foreclosure sale can take place during the marketing period specified in the Short Sale Agreement as long as the borrower is acting in good faith to sell the property. There will be a maximum marketing period of 1 year for the property, provided any longer period not otherwise delay foreclosure sale, to ensure diligence by servicers and borrowers in moving as quickly as possible to complete the short sale and deed-in-lieu process.
Selling Commissions and Fees: Reasonable and customary real estate commissions and selling costs that may be deducted from the sales price will be specified in the Short Sale Agreement. The Servicer will agree not to negotiate a lower sales commission after an offer has been received.

Fees and Charges: Servicers may not charge borrowers fees for participation in the Foreclosure Alternative Program.
Property Eligibility: Any junior liens, mortgages or other debts against the property must be cleared for the property to be sold as a short sale or deeded to the servicer. The servicer can proceed with a short sale or deed-in-lieu if there is a reasonable belief that all liens on the property can be cleared.
Program Expiration: Eligible borrowers will be accepted until December 31, 2012. Program payments will be made upon successful completion of a short sale or DIL.
?
Deed-in-Lieu: At the servicer's option, the Short Sale Agreement may include a condition that the borrower agrees to deed the property to the servicer in exchange for a release from the debt if the property does not sell within the time specified in the Agreement or any extension thereof. In this case the borrower would have 30 days to vacate the property and would be entitled to $1,500 to assist with relocation expenses, in addition to any other funds the servicer may provide to the borrower.

Home Price Decline Protection Incentives to Protect Against Falling Home Prices: This initiative provides lenders additional incentives for modifications where home price declines have been most severe and lenders fear these declines may persist. These incentives will encourage servicers to undertake more modifications by assuring that incremental investor losses will be partially offset.

To encourage the modification of more mortgages and enable more families to keep their homes, the Administration, building on insights pioneered by Chairman Bair and the FDIC, has developed an innovative payment that provides compensation based on recent home price declines, structured as a simple cash payment on every eligible loan. Home Price Decline Protection (HPDP) incentives are designed to address investor concerns that recent home price declines may persist. Together the incentive payments on all modified homes will help cover the incremental collateral loss on those modifications that do not succeed. HPDP payments will be linked to the rate of recent home price decline in a local housing market, as well as the average cost of a home in that market.

Increases Number of Loans that Are Modified: Making Home Affordable will make payments totaling up to $10 billion to to encourage lenders, servicers and investors to modify rather than foreclose by addressing concerns that home price declines will persist in the future. This should increase the number of modifications completed under the MHA program in markets hardest hit by falling home prices.

How The Program Works:

Payments will be based on the total number of modified loans that successfully complete the modification trial period and remain in the modification program.
Each successful modification will be eligible for a HPDP incentive, up to a cap for HPDP incentives of $10 billion.
If the trial modification remains successful, 1/24th of the HPDP incentive will accrue to the lender/investor each month for up to 24 months. HPDP incentive payments will be made at the end of the first and second year of the modification.
Calculation of HPDP Incentives: HPDP incentive amounts will be calculated based on a formula incorporating:
Declines in average local market home prices over recent quarters prior to the quarter in which the loan was modified based on housing price indices; and
The average price of a home in each particular market, since the potential loss due to a given rate of home price decline will be larger in higher cost areas
Authored by | Discussion: 2 Comments »
December 18th, 2009 Categories: Default News, Mortgage and Loans, National Real Estate Trends, Pre Foreclosures
First American Puts 'Shadow Inventory' at 1.7 Million
From DSNewsThere were 1.7 million REOs and homes facing imminent foreclosure that had not yet hit the market at the end of the third quarter, according to data released Thursday by First American CoreLogic.
The company says that at the current sales pace, it would take 3.3 months to get rid of this looming "shadow inventory." By comparison, First American CoreLogic says shadow inventory a year ago was 1.1 million, representing a 2.4 month backlog.
Shadow inventory is not included in official measures of unsold inventory. According to First American CoreLogic's
analysis, the visible supply of unsold inventory – accounting for new and existing homes that are currently on the market – was 3.8 million units in at the end of September, down from 4.7 million a year earlier. The visible months' supply fell to 7.8 months in September 2009, down from 10.1 months a year earlier.
Together, total inventory of unseen and marketed properties comes to 5.5 million units as of September 2009, an 11.1 months' supply of homes. That figure is down from a total inventory of 5.7 million a year ago, which equates to a 12.7 months backlog.
First American CoreLogic says this indicates that while the visible months' supply has decreased and is beginning to approach more normal levels, adding in the pending supply reveals there is still quite a bit of inventory that will impact the housing market for the next few years.
Just how big of an impact the shadow inventory makes will depend on whether it hits the market in large fell swoops or makes its way out of the darkness in steady, manageable streams. According to a new report from Radar Logic, the looming distressed property supply will enter the housing market at a controlled rate that can be absorbed by existing demand without drastically reducing prices
Authored by | Discussion: No Comments »
December 11th, 2009 Categories: Default News, Mortgage and Loans, Sacramento Economy, Sacramento Foreclosures, Sacramento Real Estate
The Foreclosure market here in Sacramento is currently drying up… very few homes coming on the market as REO or bank-owned, fewer foreclosure filings, Multiple offers for the homes that are priced right, and an overall sense of "wait and see" seems to be on most potential buyers' minds right now.
The banks have been rescheduling foreclosure sales or Trustee Sales at the county courthouse for so long, that now the foreclosure departments just haven't been scheduling them in the first place– kinda makes sense, if all your going to do is reschedule it and put it off anyway; why spend the time and money on scheduling it in the first place?
If the number of buyers at the foreclosure sale (trustee sale) is any indication– there must be many investors who believe the prices are not going much lower, or who think there may be some up-tick in the market sometime soon: the number of buyers has tripled or quadrupled in the last several months and continues to grow, according to friends who attend the sales down at 720 9th St. downtown Sacramento (address for the Sacramento County Municipal and Superior Courts). they say tat over 90% of foreclosure sales are postponed still, or re-scheduled, usually for only 30 days at a time…
In other Sacramento area real estate news: According to OBSNews
An amendment co-authored by Sacramento Congresswoman Doris Matsui (D–California) has been based by the House of Representatives and was added to the Wall Street Reform and Consumer Protection Act (H.R. 4173) yesterday. The act requires mortgage servicers or lenders who are participating in the Making Home Affordable Program (HAMP) to publicly report their progress in helping responsible homeowners stay in their homes. The amendment was introduced by Congresswoman Matsui with Rep. Betty Sutton (D–Ohio) and Rep. Kathy Castor (D–Florida), and debated on the House floor. Passage of H.R. 4173 is expected today.
"Too many families in my district of Sacramento have faced foreclosure on their homes as a direct result of the economic meltdown," stated Matsui. "There is another uptick in foreclosures expected that could affect as many as 4.5 million homeowners over the next two years. The Making Home Affordable Program holds the potential to greatly reduce these figures, and my amendment will ensure accountability on the mortgage industry. Transparency will incentivize the mortgage industry to help responsible homeowners stay in their homes."
Some information courtesy (OBSNews.com)
Authored by | Discussion: 1 Comment »