Archive for the 'Graphs and Charts' Category
April 11th, 2010 Categories: Graphs and Charts, National Real Estate Trends, Sacramento Real Estate Trends
Sacramento housing market outlook; The double dip?

A lot of people have been saying lately that there may be another crash coming nationally. More Foreclosures than last year, more short sales, higher interest rates and worse economic times coming… What will the effects be on the Sacramento Real Estate Market?  What more will the Sacramento housing market need to endure still?

Many sources say that the housing recovery in hard hit states like California, Nevada, Florida and Arizona are ten years off, here's why:
The New York Times:  Don't Bet the Farm on the Housing Recovery
MUCH hope has been pinned on the recovery in home prices that began about a year ago. A long-lasting housing recovery might provide a balm to households, mortgage lenders and the entire United States economy. But will the recovery be sustained?
Alas, the evidence is equivocal at best.
The most obvious reason for hope is that, unlike stock prices, home prices tend to show a great deal of momentum. Correcting for seasonal effects, home prices as measured by the S.&P./Case-Shiller 10-City Home Price Index increased each month from June 1995 to April 2006, then decreased almost every month to May 2009. Since then, they have risen through January, the latest month for which data is available.
So, because home prices have been climbing of late, isn't it plausible that they'll keep doing so?
If only it were that simple.
Home price booms and busts do end, sometimes quite suddenly, as was the case for the boom of 1995 to 2006 and the bust of 2006 to 2009. Today, we need to worry about strong headwinds, as the government begins to withdraw its support of a still-troubled lending industry and as foreclosures are dumping millions of homes onto the market.
Consider some leading indicators. The National Association of Home Builders index of traffic of prospective home buyers measures the number of people who are just starting to think about buying. In the past, it has predicted market turning points: the index peaked in June 2005, 10 months before the 2006 peak in home prices, and bottomed in November 2008, six months before the 2009 bottom in prices.
The index's current signals are negative. After peaking again in September 2009, it has been falling steadily, suggesting that home prices may have reached another downward turning point.
But why? Unfortunately, it is hard to pinpoint causes for a change in demand for housing. The factors clearly include government economic policy, like interest-rate changes and tax credits. But these moves don't line up neatly with major turning points in the market.
Sociological processes may be driving these changes. Trends in news media coverage, for example, generate conversations in barbershops and hotel lobbies, which in turn alter the conventional wisdom about investing.
Consider how that process might have worked during the run-up to the 2006 turning point in home prices. In May 2005, two months before the peak in the N.A.H.B. traffic index, Consumer Reports magazine had a cover article, "Your Home: How to Protect Your Biggest Investment," that conveyed a very bullish sentiment.
"Despite years of dire warnings from some economists that the housing boom is about to end, it hasn't," the magazine said. "Indeed, last year prices rose even more — about 11 percent nationally."
The article went on to give advice: "You can no more time the real estate market than you can the stock market," it said. "If you need a house, and can afford one, go ahead and buy."
The article extended to the housing market the conventional wisdom that then prevailed about the stock market — namely, that it was quite efficient, without identifiable bubbles and bursts. According to this theory, there was an identifiable profit opportunity: buy and hold stocks, and by extension, housing, and watch your wealth grow.
But as 2005 continued, the conventional wisdom began to change. Some people in the United States were by then aware of the 2004-5 home price decline in Britain. Some were learning a new lexicon: "housing bubble," "housing crash" and "subprime mortgage." Newspapers and magazines began to include some derisive reviews of a March 2005 book by David Lereah, "Are You Missing the Real Estate Boom?" And accounts began to appear of the risky behavior of an army of real estate flippers.
In May 2005, I included in the second edition of my book, "Irrational Exuberance," a new data series of real United States home prices that I constructed, going back to 1890. I was amazed to discover that no one had published such a long-term series before.
This data revealed that the home price boom was anomalous, by historical standards. It looked very much like a bubble, and a big one. The chart was reproduced many times in newspapers and magazines, starting with an article by David Leonhardt in The New York Times in August 2005.
In short, a public case began to be built that we really were experiencing a housing bubble. By 2006 a variety of narratives, taken together, appear to have produced a different mind-set for many people — creating a tipping point that stopped the growth in demand for homes in its tracks.
THE question now is whether a strong case has been built for a new bull market since the home-price turning point in May 2009. Though there is no way to be precise, I don't believe it has.
Since that turning point, most public discourse on housing has not been about a new long-term view of the market. Instead, it focused initially on whether the recession was over and on the extraordinary measures the government was taking to support the housing market.
Now we're shifting into a new phase. The recession is generally viewed as being over, and those extraordinary measures are being lifted.
On March 31, the Federal Reserve ended its program of buying more than $1 trillion of mortgage-backed securities, and the homebuyer tax credit expires on April 30.
Recent polls show that economic forecasters are largely bullish about the housing market for the next year or two. But one wonders about the basis for such a positive forecast.
Momentum may be on the forecasts' side. But until there is evidence that the fundamental thinking about housing has shifted in an optimistic direction, we cannot trust that momentum to continue.
Authored by Forth Hoyt | Discussion: No Comments »
December 31st, 2009 Categories: Default News, Graphs and Charts, Pre Foreclosures, Sacramento Foreclosures, Shortsales
December Sacramento Trustee Sale Report
November California Notice of Default and Notice of Trustee Sale Numbers…
Graph of California Notice of Defaults/Trustee Sales
Courtesy dr.housingbubble.com
Sacramento Trustee Sales Continue to be Re-Scheduled on nearly 90% of trustee sales at 720 9TH ST downtown Sacramento most days. Imperfect foreclosure, and/or new policies under the HAMP/TARP guidelines are usually blamed.
The whole state of California has been experiencing this too, lately, even though Fannie Mae said on Dec. 15th that they were not going to re-schedule or postpone any more Trustee Sales.
According to Sean O'tooles blog on ForeclosureRadar (www.foreclosureradar.com), the only website that tracks every California foreclosure and provides daily auction updates, issued its monthly California Foreclosure Report for for November 2009. Despite apparent headline month-over-month declines in foreclosure activity, the real story requires looking at changes in the average daily activity. November had only 18 days on which filings could be recorded or trustee sales held because of fewer days in the month, Veterans Day and the Thanksgiving Holiday, while October had 22 recording days, and 21 trustee sale days. After adjusting for this difference in days we find little month-over-month change in the statistics, with the exception of Notices of Trustee Sale which declined 13.4 percent, Cancellations which rose 40.0 percent and Sales to 3rd Parties which rose 8.0 percent on a daily average basis.
"We've been waiting to see some impact from the Home Affordable Modification Program," says Sean O'Toole, Founder and CEO of ForeclosureRadar.com. "The 40 percent increase in cancellations this month is likely just the beginning of what we expect will be a wave of cancellations under this program".
Foreclosure Filings
Notice of Default

Prior Month
Prior Year
-18.98%
35.41%

Notice of Trustee Sale

Prior Month
Prior Year
29.14%
-4.03%
It is important to recognize that the decline in Foreclosure Filings is primarily due to a difference in the number of days documents can be recorded month-over-month and not fewer filings each day. With just 18 recording days in November versus 22 in October, average daily filings of Notices of Default only declined 1 percent, while Notices of Trustee Sale declined 13.4 percent from the prior month.
Authored by | Discussion: No Comments »
November 20th, 2009 Categories: Graphs and Charts, Mortgage and Loans, Pre Foreclosures, Real Estate News, Real Estate Trends
FHA Foreclosures Surge
Did you read that?
FHA foreclosures? Holy cow; that means nearly one in five FHA loans are more than 30 days behind! Most of those FHA borrowers would have bought since the mortgage crash of 2007, since FHA loans were almost extinct before that…
The Mortgage Bankers Association also found recently that 14 percent of all homeowners with any type of mortgage were either behind on payments or in foreclosure at the end of September. It was a record-high figure for the ninth straight quarter.
As they say; even a dead cat will bounce– The media had it all wrong this summer; calling for a bottom and raising hopes of a housing turn-around… There are still many, many more homes coming through the fore closure pipeline…
Loan modification starts are way up, nearly 700,000 homeowners nationally (about 20% of those who qualify) have started the modification process. However, over 75% of those will default again, recent history shows us. And of the 25% that don't default, how many of them will re-consider when they finally realize that only 10% of loan modifications have any type of principle reduction… it may take 20 years in some areas to get back to 'ground zero' or where folks can sell without going short or bringing money to the closing table.
I am really not a pessimistic person, in fact I am too optimistic usually and it has cost me a lot of money and pain by seeing through "rose colored glasses" in the past. I just really see too many signs of more problems to come and think we are a long way from the bottom
Authored by | Discussion: No Comments »
November 18th, 2009 Categories: Default News, Graphs and Charts, National Real Estate Trends, Pre Foreclosures, Real Estate Trends
According to Centralvalleybusinesstimes.com:
Sacramento:
Foreclosure rates in Sacramento-Arden-Arcade-Roseville-Woodland metropolitan area increased for the month of September over the same period last year, according to First American CoreLogic.
The rate of foreclosures among outstanding mortgage loans was 3.61 percent for the month of September, an increase of 1.58 percentage points compared to September 2008 when the rate was 2.03 percent.
Foreclosure activity in Sacramento-Arden-Arcade-Roseville-Woodland was higher than the national foreclosure rate, which was 2.93 percent for September 2009, representing a 0.68 percentage point difference.
Also in Sacramento-Arden-Arcade-Roseville-Woodland, the mortgage delinquency rate has increased. According to First American CoreLogic data for September 2009, 10.29 percent of mortgage loans were 90 days or more delinquent compared to 6.35 percent for the same period last year, representing an increase of 3.94 percentage points.
Courtesy of Real Estate News & Commentary by Chris McLaughlin, November 17, 2009
3Q09 – Delinquencies up, rate slows
According to credit reporting agency TransUnion, delinquent mortgages were up 58% from 3.96% a year ago, and as of Sept. 30, 6.25% of U.S. mortgage loans were 60 or more days past due. Two months delinquency is considered a first step toward foreclosure because it's hard for homeowners to catch up with payments at that point. The rate of delinquency is slowing, however. The rate was up 7.6% from the second quarter — a much smaller jump than the 11.3% rise in the second quarter and a 14% rise seen in the quarter before that. F.J. Guarrera, vice president of TransUnion's financial services division, says that while the slower rate is encouraging, the co9ntinual increase shows there are still a lot of problematic mortgages out there.
Mortgage delinquencies remain highest in the four states where the crisis has hit the worst: in Nevada, the rate reached 14.5%, up from 7.7% a year ago; in Florida, the rate was 13.3%, up from 7.8% last year; in Arizona, the rate hit 10.4%, up from 5.5% in 2008; and in California, the rate jumped to 10.2%, from 5.8% last year. Two things have to get better before mortgage delinquency rates start reversing themselves: home values and unemployment. "Until we see improvement in both of those areas, it's possible that it will take longer for delinquency to improve," Guarrera said.
Authored by | Discussion: No Comments »
October 30th, 2009 Categories: Graphs and Charts, Loan Modification, Mortgage and Loans, Pre Foreclosures, Real Estate News, Real Estate Trends
Last Month' 9129/09 from Calculated Risk;
Fannie Mae reported that the serious delinquency rate for conventional loans in its single-family guarantee business increased to 4.17 percent in July, up from 3.94 percent in June – and up from 1.45% in July 2008.
"Includes seriously delinquent conventional single-family loans as a percent of the total number of conventional single-family loans. These rates are based on conventional single-family mortgage loans and exclude reverse mortgages and non-Fannie Mae mortgage securities held in our portfolio."
Just more evidence of some shadow inventory and the next wave of foreclosures.
Update: These stats include loans in trial modifications.
Than today from Chris Mcglaughlin;
According a report from California-based real estate market consulting firm Foresight Analytics, total delinquencies for first-lien residential mortgages grew to an estimated 11% during Q309. The final figures for the third quarter are not due until the end of November, but Foresight's report bases its data on earnings reports and call report filings from banks. Residential delinquencies increased from 10.2% in Q209 and from 6.4% from the second quarter of 2008, according to the report. The delinquency rate rose approximately 1% every quarter since the Q108, except for a quick blip in Q408. "We have been expecting the rate of increase to slow, but clearly this has not yet occurred," said the report.
Nonaccrual rates for residential mortgages also jumped to 4.7% in Q309 from 3.8% in the previous quarter, and delinquencies in commercial mortgages also ballooned for the quarter. The rate hiked to 4.7% in Q309 from 4.1% in the previous quarter and more than doubled the 2.1% rate a year ago, according to the report. "The delinquency rate has been increasing at an accelerated rate since Lehman Brothers' collapse in September 2008 and the ensuing severe credit crunch and economic downturn." The delinquency rate in commercial loans is still well below the 8% delinquency rate in the third quarter of 1991, but the rate still worries analysts in light of a weak economy, constricted credit availability and a large number of commercial mortgages coming due the next few years.
Authored by | Discussion: No Comments »
September 15th, 2009 Categories: Graphs and Charts, Pre Foreclosures, Real Estate News, Real Estate Trends
Foreclosures "HAMPered" by Making Home Affordable Program
Discovery Bay, CA, September 15, 2009 – ForeclosureRadar (www.foreclosureradar.com), the only website that tracks every California foreclosure and provides daily auction updates, issued its monthly California Foreclosure Report for August 2009. Foreclosure filings dropped both month-over-month and year-over-year, while the inventory of properties scheduled for foreclosure sale continued to grow, and foreclosure sales were flat.
Key findings for August 2009 include:
o Notices of Default filings, the first step in the foreclosure process, dropped substantially from July to 36,396 filings, a 19.1 percent decrease. Year-over-year filings dropped by 14.2 percent from August 2008.
o Notice of Trustee Sale filings continued to swing wildly, dropping 15.1 percent from July to 33,362, after having jumped 31.6 percent from June to July. Year-over-year filings dropped by 8.1 percent from August 2008.
o Foreclosures scheduled for trustee sale increased to 131,300, a 5.1 percent increase from July, and an 89.1 percent year-over-year increase from August 2008.
o Foreclosures sold at auction increased 3.4 percent to 17,829 sales, with a combined loan value of $8.31 Billion. Year-over-year trustee sales remain 32.2 percent lower than August 2008. Just 13.4 percent of scheduled foreclosure sales were sold at auction this month, while 37.9 percent of scheduled foreclosure sales were sold in August 2008. The majority of sales are being postponed to a future date at either the lenders request or with their agreement.
o Sales to third party bidders rose 22.3 percent from July, with 3,280 foreclosures sold primarily to investors. As a percentage of total sales, sales to third parties continued to increase; though lenders still took back 81.4 percent of foreclosures at auction, representing 14,327 loans, a decline of 1.6 percent from July.
o Opening bids placed by lenders at trustee sale were an average of 39.5 percent lower than the loan balance, and 10.2 percent higher than estimated market value. Opening bids that did not result in a sale to a 3rd party were on average 19.9 percent higher than estimated market value, whereas those purchased by third parties were on average 29.7 percent below market value.
o Cancellation of foreclosure sales dropped by 7.5 percent from July to 9,976, with no signs yet that foreclosures being postponed for the new "Home Affordable Modification Program" are being cancelled after successful trial periods.
"It is clear at this point, that foreclosures are being HAMPered" says Sean O'Toole, founder and CEO of ForeclosureRadar. "Where foreclosures head from here will depend a lot on the administration's Home Affordable Modification Program, commonly referred to as HAMP. We can clearly see that this program is postponing an awful lot of foreclosures, but don't expect a wave of foreclosures if it fails, instead expect further government intervention."
The Home Affordable Modification Program (HAMP) is a critical piece of President Obama's Financial Stability Plan first unveiled February 9th, 2009, with details released on March 4, 2009. One of three parts of the Making Home Affordable program, HAMP was designed to reduce mortgage payments for up to 3 to 4 million homeowners. Payments are reduced by first lowering interest payments to as low as 2%; then if necessary, extending amortization periods to 40 years, and finally forbearing principal, interest free, until the payment reaches a 31% debt to income ratio for a borrower.
The program also provides incentives to mortgage loan servicers for participating, and requires participation by servicers of loans owned or guaranteed by Fannie Mae and Freddie Mac. Through
August 2009, 360,165 trial modifications had been started. For more information, see makinghomeaffordable.gov.
A key feature of the HAMP program is a 3-month trial period, during which foreclosures are postponed to see whether or not the homeowner makes the new, reduced payment as agreed. As a result, the number of scheduled foreclosures that are being postponed at the lenders request or with their agreement has doubled since details of the program were announced. At the end of August 2009 there were 131,300 foreclosures scheduled for sale, compared to 64,177 at the end of February 2009. If the HAMP trials succeed, foreclosures should begin to cancel at record rates, which has yet to happen. If HAMP trials fail, foreclosure sales should increase, which also has yet to happen.
CALIFORNIA FORECLOSURE REPORT METHODOLOGY
Rankings are based on population per foreclosure sale. NOD indicates the number of Notices of Default that were filed at the county, and NTS indicates filed Notices of Trustee Sale. Sales indicates the number of properties sold at foreclosure auction. Percentage changes are based on monthly Sales. The data presented by ForeclosureRadar is based on county records and individual sales results from daily foreclosure auctions throughout the state – not estimates or projections.
ABOUT FORECLOSURERADAR.COM
ForeclosureRadar is the only web site that tracks every foreclosure in California with daily updates on all foreclosure auctions. ForeclosureRadar features unprecedented tools to search, manage, track and analyze preforeclosure, foreclosure auction, short sale and bank owned real estate. The web site was launched in May 2007 by Sean O'Toole, who spent 15 years building and launching software companies before entering the foreclosure business in 2002 where he successfully bought and sold more than 150 foreclosure properties. ForeclosureRadar is an indispensable resource for real estate agents, brokers, investors, lenders, mortgage brokers, attorneys and other real estate professionals specializing in the California real estate market.
###
Authored by | Discussion: No Comments »
May 16th, 2009 Categories: Graphs and Charts, Real Estate News, Real Estate Trends, Sacramento RE Stats, Sacramento Real Estate
Sacramento Real Estate Inventory Continues to fall… at a time of year we usually see a huge ramp up of homes for sale. As you can see from the TrendGraphics chart featured in a SacBee article, spring time brings increases and fall brings decreases…
Foreclosure moratoriums and lenders deciding to give homeowners more time before filing foreclosure notices and holding Trustee sales have been a key to the falling inventory in the capital region.
But that decline is not likely to last, After the April 1 lift of several bank and government moratoriums, thousands of foreclsoure notices have been filed Here in the metro area, and hundreds more have been sold at Trustee sale and gone back to the lender.
At the end of April there were just over 7200 homes on the market; the lowest inventory in the Sacramento Metro area since July 2005. It was the 20th straight month of falling inventory since listings peaked at more than 16,000 in August 2007.
Authored by | Discussion: No Comments »
May 13th, 2009 Categories: Graphs and Charts, Real Estate News, Real Estate Trends, Sacramento RE Stats
So the Sacramento foreclosure numbers for April have recently been released, and it only confirms what we in the real estate business have been saying for weeks… Although much lower than last years numbers, the number of foreclosed homes rose in April for each of the four counties in the Sacramento region.
According to a monthly report released Tuesday by ForeclosureRadar, Sacramento County foreclosures sales (trustee sales) rose 21 percent in April to 867 properties. However, that figure is 48 percent lower than the same month last year. Foreclosures in Placer and Yolo counties are also significantly lower that the same time last year.
The most striking monthly change occurred in Placer County, where the 180 foreclosure sales represented a 73 percent increase over March figures.
Statewide, the report shows foreclosures show no definitive trend in 2009, jumping one month and falling the next.
The Notice of defaults are now slowing it seems and now there will be an increase in Bank owned properties as the homes that have been taken back hit the market over the next several weeks.

Authored by | Discussion: No Comments »
April 22nd, 2009 Categories: Graphs and Charts, Real Estate News, Real Estate Trends, Sacramento History, Sacramento Real Estate
Jim Wasserman of the Sacramento Bee wrote a story today about the free fall in rental rates in the Sacramento area.
Sacramento area apartment and housing rents, which have long been lower than in much of California, are getting even lower.
According to RealFacts, Average asking rents in large apartment communities all over the sacramento region have fallen for six straight months.
The phenomenon isn't happening in all Sacramento area cities, but a RealFacts survey of 76,000 apartment units in Sacramento, El Dorado, Placer and Yolo counties, shows a second straight quarter of falling rents.
According to RealFacts, this years first-quarter apartment rents in the Sacramento area averaged $961, down from $966 in the fourth quarter of 2008.
Rents are also falling across much of the United States, RealFacts data shows. Asking rents, on average, have fallen around 4 percent or more the past year in Miami, Orlando, Phoenix and Riverside-San Bernardino .
Nearly all the major metro areas of California, with the highest unemployment since 1941 – (they reported a 11.2 percent unemployment in March) have seen rents fall in large rental communities.
"There are a lot of people who have lost jobs here in California, and those who haven't are apparently scared they will, so everyone is watching expenditures," said Caroline Latham, chief executive officer of RealFacts.
Sacramento area's March unemployment was 11.3 percent. It may pass the 12 percent mark, the Stockton-based University of the Pacific's business forecaster has said.
Authored by | Discussion: No Comments »
March 25th, 2009 Categories: Graphs and Charts, Mortgage and Loans, Pre Foreclosures, Real Estate News, Real Estate Trends, Sacramento Home Buyers, Sacramento Real Estate
Leslie Appleton-Young, chief economist of the California Association of Realtors, said a couple weeks ago that the subprime loans that triggered the housing slump and global economic downturn has largely run its course in the Sacramento region.
But now, the next round of problem mortgages; the Pay Option ARM, Alt-A, Neg-Am, are imploding, and they are the big ones! Most of these were very expensive, big jumbo houses.
Thousands of those loans are going to cause problems for Sacramento-area borrowers, experts say. $750 billion of option ARMs were originated from 2004 to 2007 with most of them in California and Florida.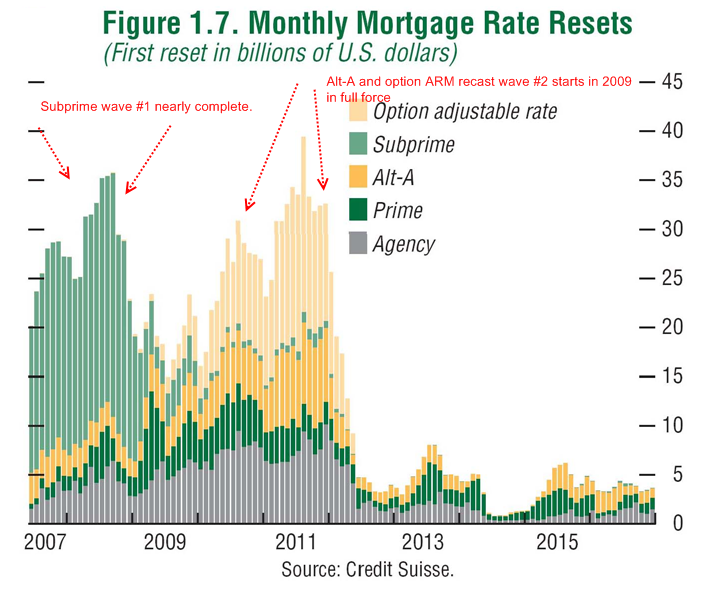 These loans are blowing up just like the subprimes. As of December of 2008, an amazing 28% of option ARMs were late or in foreclosure.The problem is that option ARMs were "prime" products because they were made to people with with higher credit scores. Never mind the fact they made no where near enough money to afford the home they were buying! Once the loan resets, the game is over!
The average increase in payment is over $1000 per month! And almost 60% of these homes are under water, or are not worth the underlying debt!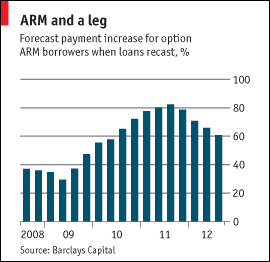 As you can see, the longer the lock on the original payment, the higher the reset…
We could see this problem around until 2015 or so.
Authored by | Discussion: No Comments »