April 6th, 2010 Categories: Mortgage and Loans, National Real Estate Trends
Mortgage Rates Will Continue To Trend Higher As Economy Improves, Feds Quit Buying Mortgage Backed Securities
Courtesy; Evangeline Scott, Summit Funding and MMG Weekly
"YOU DON'T KNOW WHAT YOU GOT UNTIL IT'S GONE – AND I FOUND OUT A LITTLE TOO LATE…"Reserve's Mortgage Backed Security buying program The words from Chicago's hit song from the 80's sums up the market's sentiment on the ending of the Federal , and the resulting volatility for home loan rates that has already begun.
The Fed did what they set out to do – purchasing $1.25 Trillion in Mortgage Backed Securities, and succeeding in their plan to lower home loan rates and help stabilize the housing sector. And even though they stretched out the length of the program slightly – in order to soften the impact of the end of the program – the training wheels are now off, the safety net is gone, and home loan rates have already moved higher. In fact – as the Fed will now gradually become a seller of their massive holdings of Mortgage Backed Securities – rates are very likely to continue to move higher still.
Even after home loan rates took a jump higher last week, they still remain at reasonably low levels – which makes right now a crucial time to take advantage of the opportunities that exist, including the Homebuyers Tax Credit which is down to its last month. To take advantage of the generous credit, purchase contracts must be signed by the end of April. If you or someone you know has questions about this credit – please don't wait to get in touch with me.
Adding to last week's volatility, the official Jobs Report was released last Friday – and according to the report, 162,000 jobs were created in March, making it the biggest one-month increase in three years. Additionally, there were upward revisions to January and February, which brought the last two months' net job losses to near zero.
———————–
Chart: Nonfarm Payrolls (By Month)
While it was good to see some positive numbers, we're not exactly out of the woods just yet, as there were some concerning aspects of this Jobs Report. For example, Average Hourly Earnings actually fell 0.1% in March. This could be viewed as a negative sign, indicating that there's no pressure on companies to pay workers more to retain them. It also shows continued temporary hiring at a lower pay scale.
The official Unemployment Rate remained steady at 9.7%, but when factoring in the "underemployed", including people who accepted part-time work because full-time work is simply not available, the rate of unemployment overall rose from 16.8% to 16.9%. This is a big number that continues to weigh on the labor market.
Also in the news last week, the US Savings rate moved down to its lowest Level since October 2008. Check out the mortgage market guide view article below for some simple ways to boost your savings.
Forecast for the Week


This week's economic calendar may seem slow after the wave of economic news last week. But there are still some big items on tap, starting off right away Monday morning when the Pending Home Sales report gives us a look at the health of the housing industry.

Tuesday brings us the Meeting Minutes from the latest Fed Meeting. Although we already know what the Fed's policy announcement was, the markets will be looking at the discussion contained in the Meeting Minutes as an indication of what Fed members are thinking and what they may do in the future.

On Thursday we'll get another look at Initial Jobless Claims. Last week, Initial Jobless Claims were reported basically in line with expectations and down from the previous week's number, and Continuing Jobless Claims declined as well. With those numbers and last week's official Jobs Report in mind, the market will be watching to see if the labor market can continue to make positive strides.

Finally, in addition to those reports, the Treasury Department will auction off $82 Billion in Treasuries. And since most of those will be longer maturities that compete with Mortgage Backed Securities, the auctions could add volatility to the markets depending on how they are received.

Remember: Weak economic news normally causes money to flow out of Stocks and into Bonds, helping Bonds and home loan rates improve, while strong economic news normally has the opposite result. As you can see in the chart below, Mortgage Bond prices plunged last week and rates increased .25%.

Chart: Fannie Mae 4.5% Mortgage Bond (Friday Apr 09, 2010)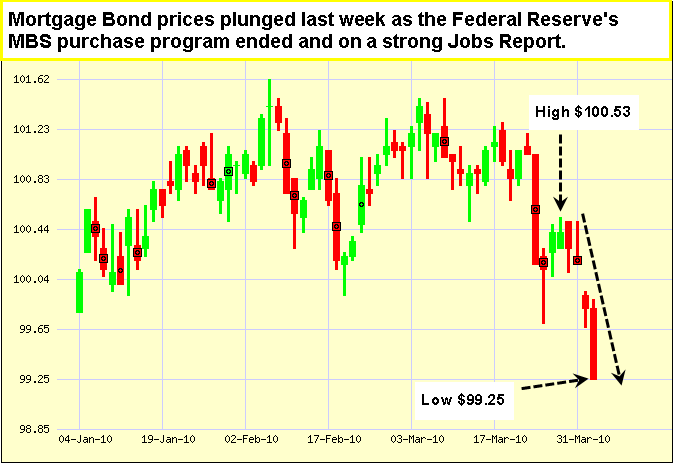 Leave a Reply