Archive for March, 2009
March 31st, 2009 Categories: Mortgage and Loans, Real Estate News, Real Estate Trends, Sacramento Home Buyers, Sacramento Real Estate
With the inventory falling at the same time prices fall and mortgages rates fall, our Sacramento area market is a tough place to buy a house right now. Competition is fierce for the best priced homes and many buyers, especially first time homeowners looking for closing cost credits and/or repairs, inspections and contingencies are losing out to investors with cash, who will buy as-is.
Nowhere is this more true than in the under $100,000 market.
Prices have fallen to well under $100.00 per square foot in many areas, for homes that would have cost over twice as much just a few short years ago.
We are seeing more foreclosures, though and the inventory should be increasing over the next couple of months…
Authored by | Discussion: No Comments »
March 25th, 2009 Categories: Graphs and Charts, Mortgage and Loans, Pre Foreclosures, Real Estate News, Real Estate Trends, Sacramento Home Buyers, Sacramento Real Estate
Leslie Appleton-Young, chief economist of the California Association of Realtors, said a couple weeks ago that the subprime loans that triggered the housing slump and global economic downturn has largely run its course in the Sacramento region.
But now, the next round of problem mortgages; the Pay Option ARM, Alt-A, Neg-Am, are imploding, and they are the big ones! Most of these were very expensive, big jumbo houses.
Thousands of those loans are going to cause problems for Sacramento-area borrowers, experts say. $750 billion of option ARMs were originated from 2004 to 2007 with most of them in California and Florida.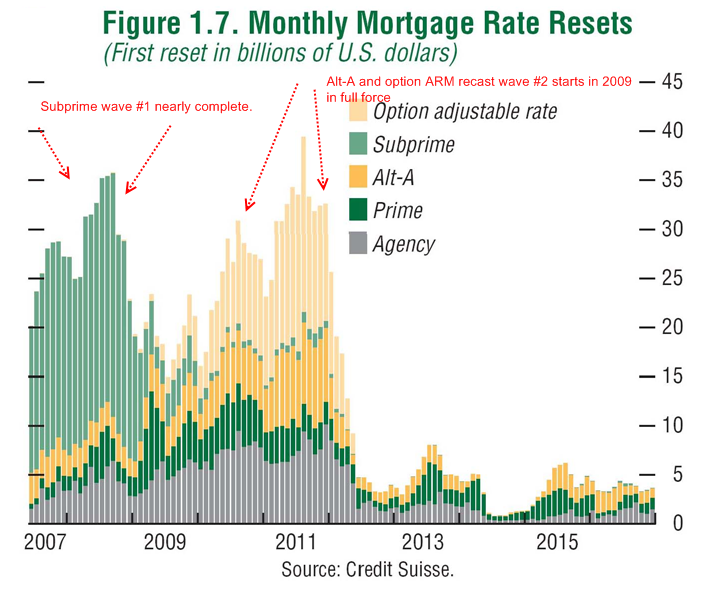 These loans are blowing up just like the subprimes. As of December of 2008, an amazing 28% of option ARMs were late or in foreclosure.The problem is that option ARMs were "prime" products because they were made to people with with higher credit scores. Never mind the fact they made no where near enough money to afford the home they were buying! Once the loan resets, the game is over!
The average increase in payment is over $1000 per month! And almost 60% of these homes are under water, or are not worth the underlying debt!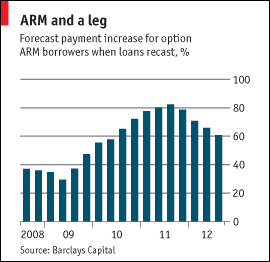 As you can see, the longer the lock on the original payment, the higher the reset…
We could see this problem around until 2015 or so.
Authored by | Discussion: No Comments »
March 21st, 2009 Categories: Real Estate News
"Up In Smoke" is a term Municipalities are using to describe the taxpayer money invested in Lehman Brothers.
More than 75 states, counties, cities and special districts are asking the federal government to replace at least part of the more than $2.2 billion they lost when the Lehman Brothers investment bank went belly up last fall.
"It was an A-rated investment one day, and the next day it was gone," said Roger Carroll, Loomis' treasurer and finance director.
"I remember when I heard the news, I said, 'No, you've got it wrong,' " said Robert Adams. Adams is the chief financial officer for the California Excess Insurance Authority, who provides insurance to county governments. The Authority lost $10 million.
Many economists agree that the collapse of Lehman was the beginning of the worldwide panic that sent stock markets plummeting, causing credit to freeze up and then sending the global economy into a tailspin.
Was it a mistake to allow this company, who had invested its money by originating mortgages, purchasing mortgages, and packaging mortgages into securities and then marketing those securities to other investors?
Lehman itself made investments in non-prime residential mortgages, but one of its subsidiaries, Aurora Loan Services, specialized in loans for the full value of property (100% financing) to people with low credit scores (Sub-Prime). The company also aggressively invested in high-risk commercial properties.
Authored by | Discussion: No Comments »
March 18th, 2009 Categories: Real Estate News, Sacramento Real Estate
Sacramento homeowners aren't the only ones in trouble…
With the passage of the Obama administration's economic stimulus package, bank CEOs and homeowners with submerged mortgages (nearly 40% of Sacramento homes are upside down) weren't the only folks holding their breath, Officials in state governments across the nation also had their fingers crossed.
California officials had originally been counting on about $10 billion in bailout money from the federal government.
If that much were to be made available from the stimulus package, they believed California just might be able to navigate around the tax increases that were part of the recent state budget agreement. But why hasn't anything hapened yet here in Sacramento?
It's been a month since Obama signed the bill. Where's all the money? Californians aren't the only ones waiting…
"Did we miss a month? Are we slow here or was it just, that's the way it is?" asked James Metzen, a Democrat from a St. Paul suburb.
Here in Sacramento Gov. Arnold Schwarzenegger and Democrats who control the legislature compete for the funds, as they both want to tap as much of the federal recovery cash as they can. According to my research, now the state could receive as much as $31.5 billion. So on they fight, and on goes the downward economy.
But I guess it's not that easy as just writing a check…the Democrats in California are still negotiating with their GOP counterparts over fine-print changes in the laws that are needed to bring in federal cash. But they just can't get it done, They are all fighting over the allocation of the funds, in the meantime, nothing happens.
Authored by | Discussion: No Comments »
March 17th, 2009 Categories: My Stories, Sacramento Economy
Just yesterday, Arnold Schwarzenegger launched the California Green Corps; that will place at-risk young adults aged 16 to 24 into jobs in California's emerging green economy.
Governor Schwarzenegger said "The Green Corps will help underprivileged young people learn job skills while we create a well-trained workforce for clean technology and for the green economy. I've been pushing for this program for a long time, because it kind of combines my passion for the environment, for protecting the economy, creating jobs, career-tech education and helping underprivileged kids and of course, service."
A $20 million project, It consists of a combination of $10 million in federal economic stimulus funding (U.S. Department of Labor) and $10 million from public-private partnerships. The first phase of the California Green Corps will consist of a 20-month pilot program reaching at least 1,000 of California's at-risk young adults.
In their presidential campaign, Obama had promised to create a Green Jobs Corps to engage disadvantaged youth in energy efficiency opportunities to strengthen their communities, while providing them with practical skills in this high-growth career field.
Authored by | Discussion: No Comments »
March 15th, 2009 Categories: Graphs and Charts, Mortgage and Loans, Real Estate Trends
What's going on here?
How could this be?
After receiving a taxpayer bailout of more than $170 billion dollars, American International Group is giving its executives tens of millions of dollars in new bonuses.
AIG is contractually obligated to pay a total of about $165 million of previously awarded "retention pay" to employees. These bonuses will be paid even though AIG is the largest recipient of government support in the current financial crisis.
Ever since it was revealed that chief executive officer John A. Thain had paid out $3.6 billion in bonuses two days before Merrill Lynch was acquired by Bank of America — and just weeks before it posted a staggering fourth-quarter loss of $15.3 billion — the country has been up in arms about Wall Street bonuses.
The NY Times has reported, "The chiefs of the 10 largest financial service firms were awarded a combined total of $320 million last year, even though the firms reported mortgage-related losses that totaled 55 billion and wiped out more than 200 billion in shareholder value."
How could this be?
Authored by | Discussion: No Comments »